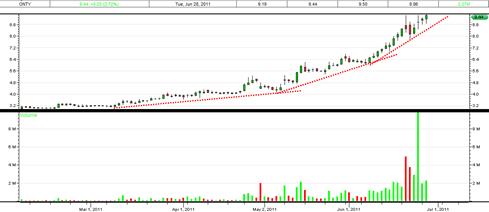 ONTY ONOTHYREON is a highly speculative biotech stock that is looking to me like it is the ultimate momentum stock.  It has an nicely accelerating upward slow, nice expansion of volume, and is trading the highest relative strength sector in the market.
In addition, it has NOT declined during the recent bearish market mini bear over the last month or two.
It has recently consolidated over the last 5 days or so and looks like it is going to once again bust higher, perhaps as soon as tomorrow 6/29/2011.
The stock is clearly overbought and has been for a long time on both the daily and the weekly chart so that means that a very tight stop is necessary in this type of stock perhaps at 9.42 assuming an entry at 9.50 or slightly higher tomorrow.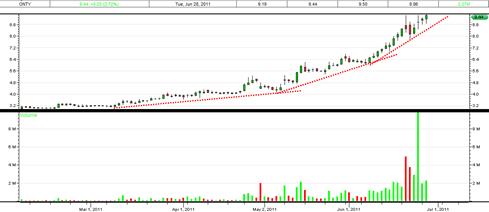 A lot of times what happens in hyper momentum stocks is that end up reaching enormous over bought levels on an intra day basis but then sell off into the close.
ONTY looks like it wants to move into an exhaustion gap eventually.