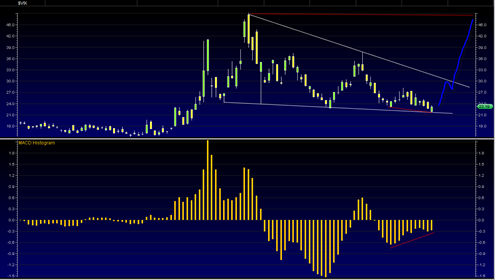 Despite my recent bullish tendencies I am becoming a bit concerned today about the uptrend.  I think it has exhausted itself today and may start to turn down tomorrow, perhaps very hard.  I am looking to go short the market tomorrow in the early AM via the various short ETFS and may be looking to do so as a position trade into the August 10th to 12th time frame.  I am still looking for bearish confirmation as we are not quite there yet, but we may get bearish confirmation either tomorrow or Thursday.
I think flexibility is key in the market right now.  Yes, I have had many different scenarios on a longer term basis about how this market will unfold, but I never want to get 100% married to one particular scenario.
Flexibility is your greatest ally in this market right now and this should be clearly evident if you look at a 2 month chart of the major indices.  It has been a series of violent large swing trading ranges of the 'V' shape.  The market is thrashing back and forth like a great white shark in the heat of a large battle in the ocean.  The market has still not shown us that it wants to trade in a clear persistent trend in one direction yet.  We are in the middle of the range and the true direction is still somewhat unclear.
Today the sp500 printed an indecision doji candlestick and was not able to get up to test the swing high of 1131.23 .  So technically we still have a lower high as of today.  If we blast higher tomorrow and test or exceed the 1131.23 swing high then I have to tip my hat to the bulls and it would maybe invalidate my short term bearish tendencies.
On the other hand, if we get another doji tomorrow, a bearish hanging man candlestick or a shooting star reversal candlestick then it will start to confirm my bearish feelings as of late.
Another reason for my bearishness today is that in many indices we are at the top range of resistance.  If you look at the XLF financials ETF you can see that today it is clearly right on the top range of resistance.  The pattern for many weeks is for this level to act as a selling point.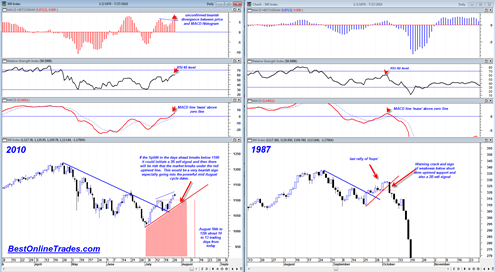 I was also looking over the charts today and it occurred to me that while the 1987 pattern similarity scenario in terms of time is pretty much dead at this point, I cannot help but think that it is somehow still alive when I do a side by side comparison of indicators versus price patterns.
The key dynamic in the 87 crash was that the market had broken north out of price downtrendline resistance and then formed a couple dojis and then went into a 10 day crash cycle.  This crash cycle was evident after it broke down through the solid red uptrendline as shown in the right half of the chart above.
The MACD had also started to cross above the zero line as a bullish indication in 1987 and the RSI had hit the 60 level.
Right now the market also has the MACD just beginning to cross above the zero line and also has the RSI at the 60 level.  These current levels are also coinciding with many indices hitting top of range resistance levels.  Plus, there is a potential bearish MACD histogram sell signal in development versus the last 2 weeks of price action.
I am going to go short if we get a confirmed MACD histogram sell signal and/or we break below and close below 1100 on the sp500 in the days ahead.  If the price of the sp500 travels into the red zone as shown in the chart above it is going to give my bearish scenario a lot more weight and confidence.
If we somehow manage to blast higher into the end of this week overtaking the 1131.23 swing high then I will obviously have to rethink these bearish feelings.
We are only 10 to 12 days from August 10th to 12th and it seems almost absurd that the market will be able to get a real decline into that time frame on such short notice.  But we have seen this market show us it has the ability to move fast, and the ability to change trend direction very quickly and persistently.
If you look at the PowerShares QQQ Trust Series 1 we can also see some interesting dynamics.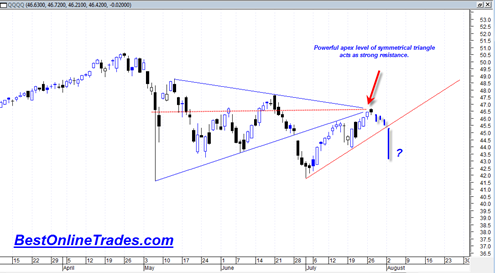 The PowerShares QQQ Trust, Series 1 broken down south through this symmetrical triangle in late June but since then has rallied all the way back up right into the APEX of this large symmetrical triangle.
This is interesting because this is a fairly large symmetrical triangle and generally speaking the apex of symmetrical triangles tend to act as resistance or support depending on the trading dynamics.  In this case I believe the apex is acting as strong resistance.
In my opinion it is going to be very difficult for the QQQ to blast above this apex resistance level.  If it is going to do it, then it probably ought to happen during the next 3 trading days and then I will be wrong and it will instead change this bearish setup into a bullish 'busted symmetrical triangle pattern'.  A busted symmetrical triangle pattern is when you get an initial break down out of a symmetrical triangle but then a reversal and then new uptrend.  But it will not be considered 'busted' unless the QQQQ can blast higher the next 3 trading days.
My take now is that the QQQQ's either tomorrow or sometime end of this week is going to reverse down again after having 'bumped its head' on a low attic ceiling with nails in it.  But again if I am wrong, we should know by the end of this week.
Look at the VIX (volatility index) we see that it will issue a confirmed MACD histogram buy signal with a close above 23.57 tomorrow.  Today it had an opening gap down followed by a reversal and nice close upwards.  This is a typical reversal signal from a previous downtrend.
The VIX has been trading in this somewhat large falling wedge pattern and if the pattern confirms a buy signal and moves to its projected target then it could move to the 47 and change level.
The VIX can move very fast if it needs to.  This falling wedge implies that a fast upward move could come out of nowhere.  If my bearish tendencies are wrong then the VIX will break below the supporting line of this falling wedge in the days ahead.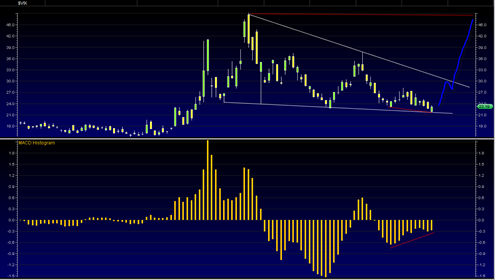 So again, flexibility is key.  This market has had a tendency of late to throw many curve balls and I see no reason why it will stop doing so for now.  The risk of betting to the downside now is that we are in this low volume slow trading period of end July and August.  It seems atypical for the market to make any kind of big move during this period.
But it will become very clear what the market's intentions are within the next few trading days…