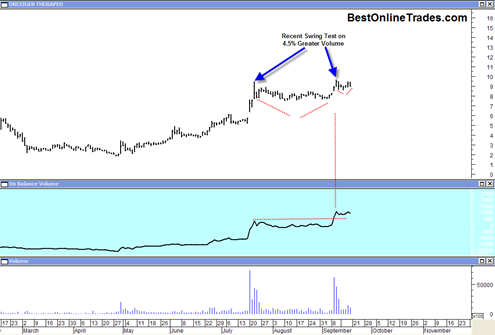 OREX is a biotech stock that has the smallest tradeable float as compared to two leading rivals in the same space VVUS and ARNA.  All three of these companies are developing a new type of weight loss pill that supposedly has very minor if any side affects and tricks peoples brains into thinking they are 'full'. 
ARNA had some wild up and down trading today and managed to close slightly positive and VVUS had a huge gap up over a week ago on positive late-stage clinical data for its weight-loss drug Qnexa.  We are seeing big moves in this sector probably because they are talking about potential billion dollar markets for these drugs.  Let's face it, weight loss is a huge market and a huge problem in this country.  If these companies can come up with an effective solution that speeds up people's weight loss SAFELY then it would seem these companies stand to make some pretty good money.
OREX insiders have recently bought quite a big chunk of shares in the 8 dollar range in August and have quite a big stake in the success or failure of the company.
Enough of the fundamentals!
Out of all three of them, I like the chart of OREX the most because it has the cleanest chart and the most persistent uptrend.  On balance volume appears to be confirming the rally so far with a break out to new highs.
An important price swing test was done as shown in the chart on 4.5% greater volume and tells me that the 9.50 level should eventually be exceeded.  The 9.50 level is the trigger for me here. I want to see it get equal to or higher than that level for me to set OREX as a buy.
The sideways consolidation since late July was great in the sense that very little price destruction was accomplished and a triple bottom was formed.
Then we had the most recent price advance on big volume and now appear to be forming the handle of a cup and handle formation.  I don't know how much longer this handle will take to form but I would like to see a break out move next week if possible.
The CFO is speaking at a health sciences conference this upcoming Tuesday around 2 or 3 pm but I can speak as to whether that is going to bring in more upside volume into the stock.
OREX looks real strong to me and I would like to see a move at or above 9.50 for a breakout type move out of this pattern to a possible target of 12. 
The way the pattern is setup and the volume I would be surprised if we do not get a breakout next week.  The float is relatively low compared to the others and so it should take less churning and rotation to move out of this pattern.