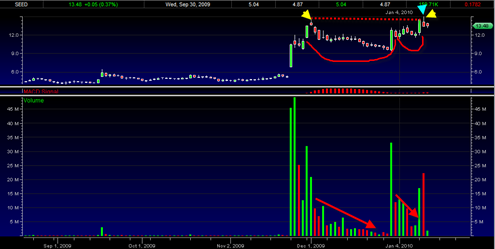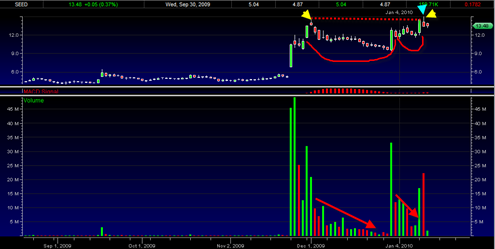 SEED is a Chinese Agricultural Company and it has a very bullish looking chart structure both in terms of volume and price action over the last few months.  Earnings are coming out tomorrow morning and it is going to be interesting to see whether or not the technicals are able to confirm a possible positive reaction to earnings tomorrow.
Everything about this chart says a very nice breakout is in store tomorrow, but a sudden reaction to the earnings tomorrow could send it in either direction very fast.
SEED also has somewhere in the neighborhood of a 30% short position in the stock with an available tradable float of only approx 10 million shares (according to Yahoo Finance).  So if tomorrow's interpretation of the news is positive you have the potential for a big move.  The CEO has been talking very bullish in recent weeks about his company.  So why on earth are the shorts so aggressive on SEED right now ?  I think it boils down to the bottom line.  SEED has had a pretty lame revenue and earnings history going back many years and I suspect they are banking on the fact that SEED price will not be able to sustain itself after a possible lackluster earnings report.
The chart has a tendency towards a cup and handle type formation.  Also the swing high denoted by the light blue arrow tested the first swing high (the first yellow arrow on the left) on equal to greater volume so it is saying that the recent highs will eventually successfully be exceeded.
The moving averages are in a bullish stance as well.  Which reflects the ability of SEED stock price to find support and pivot points at higher lows and higher highs.
The point could be made that SEED is at risk of forming a double top here, but the volume test I mentioned in the paragraph above seems to hint against such an outcome.  If the recent swing high volume test was on 10% less volume or less then 10% less volume, then that would go a long way to towards proving more doubt about this chart setup.  But that was not the case. 
So lets find out tomorrow how useful technical analysis is in providing some sort of advance warning about what SEED will do…