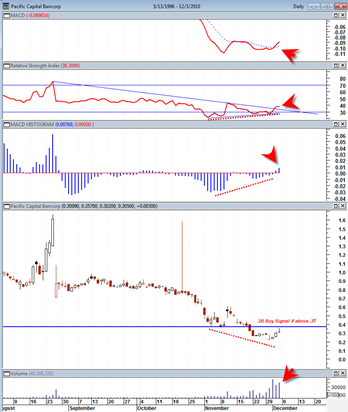 Now that the market indices appear ready to blast higher out of a quite large cup and handle pattern, my sense is that we are going to see lots of upside almost crazy action as we go into the end of the year and then a few days into the new year 2011.
Now one might say that the upside action has already been crazy, and this is true.  But still,  there are enough stocks out there with different setups and characteristics that still makes it a big ocean with plenty of fishing opportunities.
Even 'Junk Stocks' appear to be on the move with horrible fundamentals and questionable business operations.  As the market indices break north, look for small cap low price stocks to join the party.
Pacific Capital Bancorp PCBC is one of these junk type stocks.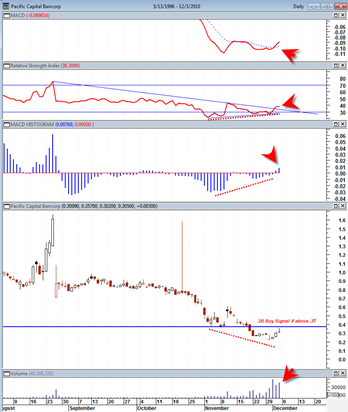 The stock is trading at .31 cents and is deeply oversold.  There appears to be a bullish divergence between RSI and price.
The recent volume has been massive  and I find it important that this massive volume surge is occurring right under the key .37 resistance range.  That is the equivalent to a high pressure balloon ready to pop.
Daily MACD has a bullish cross after a previous failure crossover.
Histogram is trending up.
RSI has broken out north from the resistance level built up over the last several months.
Pacific Capital Bancorp is due to initiate a 1 for 100 reverse split on December 28, 2010 which is usually very bad news, but is still a few weeks away.
This stock is in an extreme down trend that is very persistent, but I may go long Monday in the AM if we see today's reversal fail as a downside continuation signal.
If PCBC can get above .37 it would likely start to create quite a large short covering as the short percent of float is about 20% currently.
This is the kind of stock that can easily gap down any day.  But I am speculating that it is due for a 1 to 3 day upside relief bounce and that the bullish divergence that the indicators show will work.