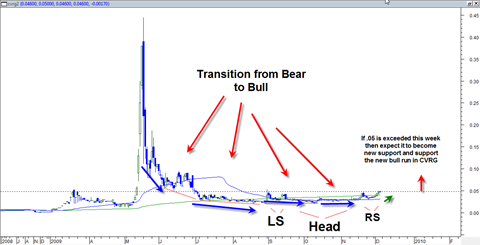 The overall chart structure and historical trading pattern and current trading action in the .046 cent gold mining penny stock CVRG Converge Global continues to look good for this beginning week of December the 7th.
My weekly indicators are telling me that this week that begins December the 7th is a possible breakout week for CVRG.  CVRG has the opportunity this week to make a breakout north above the critical .05 cent level.  A breakout here would come from a 3 month head and shoulders bottoming formation that is astoundingly symmetrical.
That head and shoulders bottoming formation could also be the last basing formation CVRG does as it may now be ready to start the mark up stage.  The blue arrows I have drawn in the chart show how CVRG has had progressively less and less selling pressure which is evident from the slope of the declines being less and less until they got to the point where CVRG basically traded almost completely horizontal during the October time frame.
This long process in my opinion marked the transition from bear to bull, and we seem to be very close to the point of the mark up stage now and new bull market in CVRG.  I indicated before that I believe what is going on here is a 'rounding bottom' formation or 'saucer bottom' which are one of the most highly regarded and reliable longer term patterns in technical analysis.  These large patterns describe a transfer of power from bears to bulls, but do so in a slow and sometimes frustrating process. 
The .05 level is critical now.  Breaking above this level would be a clear victory for the bulls in my opinion and set the stage for a new bull uptrend that could last from 1 to 3 months.  It would set .05 as new support and help to position moving averages, on balance volume, and accumulation/distribution in very favorable stances.
I have to say though that if we do not see a significant breakout this week, then something may be wrong with this analysis.  If we head back down again or go sideways, then I will have to re evaluate.
So I am viewing CVRG as a core type trade that could reap maximum benefit from a 1 to 3 month holding period.  If CVRG plays out as I expect then it could at the end stage move into parabolic mode that actually gets it on a breakout above the old high of .445.
If I am correct that CVRG is now about to enter a new mini bull market, probably the most ideal way to play it is to have a core trade in it and then try to trade the other half as swing trades along the way up on any type of spikes that may show up.
Take a look at BIOF which is a Nasdaq stock that had a similar pattern and structure to CVRG in that it had an initial big spike, then a basing pattern and then the new mark up and rally to the high and eventual parabolic blow off.  Keep in mind BIOF is a nasdaq stock and not a pink sheet stock, so there is a difference.  The difference may show up in the nature and depth of any retracements we get.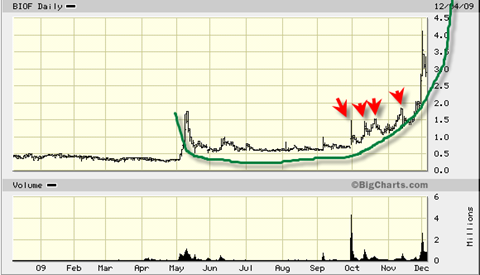 But first things first, lets see if CVRG can gather up enough steam to get a convincing move above .05 sometime this week.  That is the first order of business before anything else can become a reality.  I cannot overemphasize enough how important the .05 resistance level is.  It is the 'creek' that CVRG needs to jump over to show us it has what it takes to get this pattern in motion.