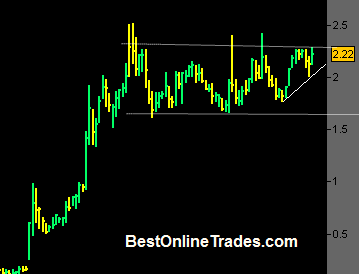 PIR or Pier One the specialty retailer looks like it is ripe for a breakout soon.
I am initiating a buy stop on PIR at 2.30 for tomorrow with a protective stop at 2.09
I like how PIR has held tight in this sideways range since early May and not given back too much ground especially considering how far and how fast it has come since the March lows.
It looks like constructive cause building to me.  There were two blow out spikes that occurred about a month ago, but in each case both of them failed to hold above resistance.  I believe those spikes are referred to as upthrusts. In each case they were on quite heavy volume.  So you saw new longs come in on those spikes and shorts unfortunately got blown out.  All of this is part of the cause building process. So now it seems patience is in order and lets see if PIR can get a breakout going here.
| | | | | | | |
| --- | --- | --- | --- | --- | --- | --- |
| BestOnlineTrades Recommended List | Symbol | Date of Rec. | Entry | Stop | Buy Stop | Result |
|   | UNG | 7/22/09 | 13.88 | 12.90 |   | –7.06% |
| | FITB | 7/22/09 | 7.60 |   |   | * |
| | CEMJQ | 7/22/09 | .275 |   |   | * |
|   | PIR | 7/23/09 | * |   | 2.30 |   |
| *pending |   |   |   |   |   |   |