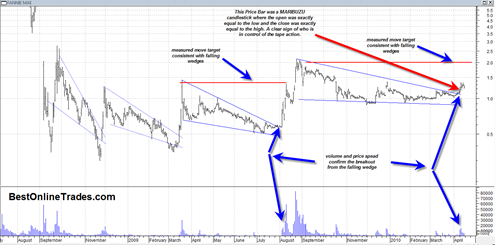 I could be wrong about this, but I predict that we end this week higher in the broad market.  I also predict that Goldman Sachs will end higher this week than where it closed last Friday.
My guess is that investors will come to their senses when the Goldman earnings come out Tuesday and realize that this company is almost literally a non stop printing ATM machine and that any liabilities they have to pay out will be simply that, cold hard cash and a tiny fraction of what this company can earn in the real world.
In addition to that there are plenty of other earnings reports to chew on this week from a good portion of the SP500 index and the DJIA as well.
So it will be interesting to see how it all shakes out.  But for now I think higher by the end of the week or at the very least some decent base building before another move higher.
Ambac Financial Group, Inc. ABK may trend lower for most of this week and I would like to see it find support near the 1.00 range where there was an extremely high volume gap.  A more towards the 1.00 range also comes near the 78.6% retracement level and is an area where it has found support on previous mega spikes.
ABK is a potentially very attractive day trading vehicle, but probably too dangerous to hold overnight.  They could file BK at any time.
I will also watch FRE and FNM (Fannie Mae and Freddie Mac) this week to see if they can hold the recent support area that was marked by a mini breakout.  They are also both very highly volatile and high risk plays but both appear to have attractive longer term falling wedge patterns that have measurement implications much higher from current levels.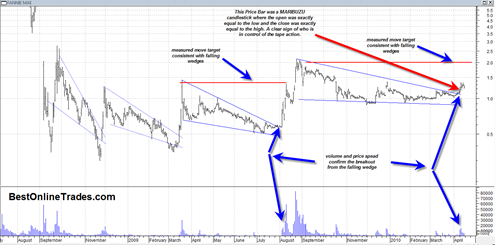 It will definitely be an interesting week and probably a highly volatile one in both directions.