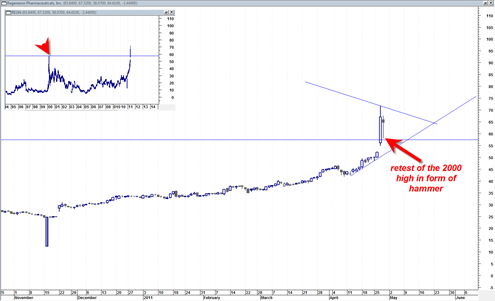 REGN is a biotech currently on a huge momentum run.  Yesterday it blasted higher in a sign of strength above its year 2000 all time high on record volume.  Today it pulled back in the form of a hammer and tested the 2000 high. 
REGN may be worth watching as an extreme momentum type stock.  I think REGN could start to consolidate in the form of a triangle, pennant or falling wedge going forward.
The high volume today, slightly greater than yesterday's volume tells me this stock is being supported today and could setup for another move higher.
I think it may need 1 to 2 weeks of consolidation at the current level and then it may be interesting to see if it can develop into a follow on type move.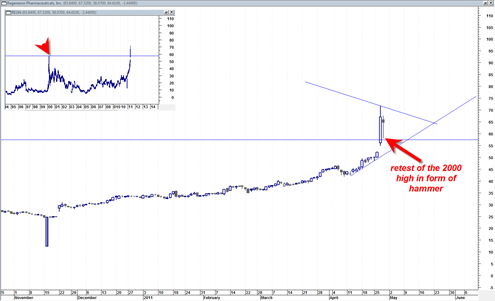 The opening gap on more than 9 million shares yesterday should serve as some type of support for this stock.  It may retrace back down to the near term up trend line before deciding to make the next step.  In fact that is probably the lowest risk way to approach REGN, wait for it to drift back to the near term momo up trend line.