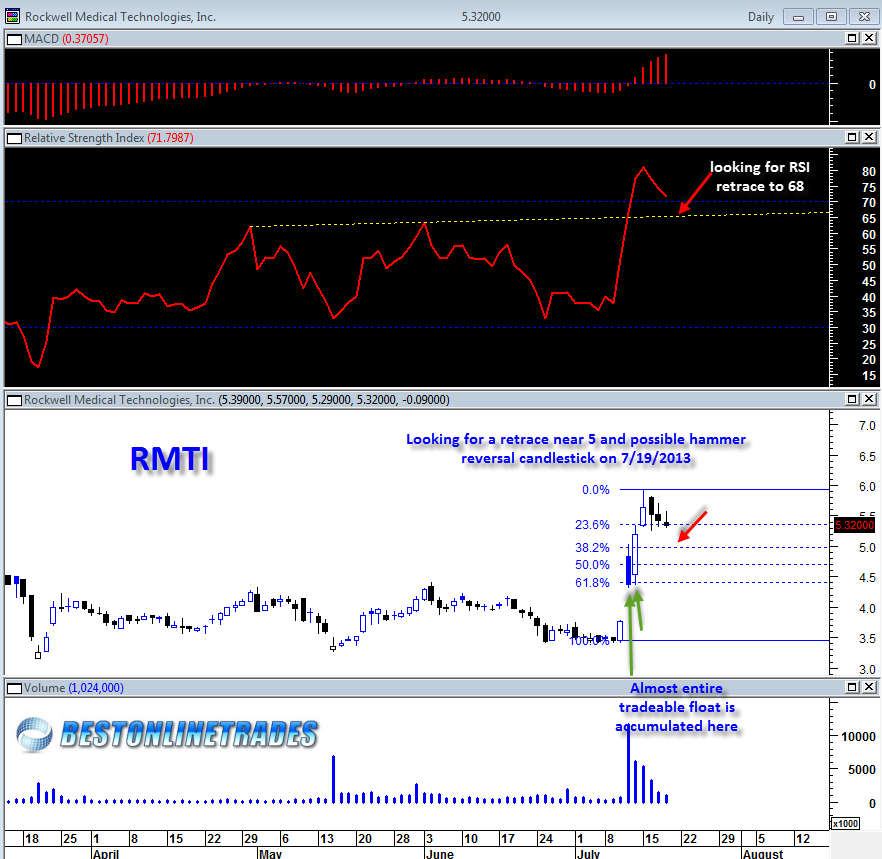 I was able to trade RMTI recently from 4.80 to about 5.80 and finally was able to get a good trade going after many recent whipsaws and stop loss take outs. I was beginning to wonder recently what was wrong with my trading.  I think I know now and am re thinking my entire trade entry criteria and the primary scans I will use for future ideas.
RMTI caught my attention because it came up on a volume scan.  It had a huge volume blow out up move after completing an extended triple bottom. I was able to get an entry on the follow on day after the initial gap up.  The premise was that RMTI should have broke into a retracement after the big gap up and record volume, but it could not manage it.  Instead the intraday action showed a break of the downtrend and that was my first entry.  It continued higher to close above the previous days gap up high and then had one more follow on up day.  I suspect this was short squeeze action.
Interestingly, it appears that a very large percentage of the float has been bought up on the recent days action and the recent selling has been quite marginal at best.  This is telling me that there will be another upside follow on move and possible new short squeeze.  However I think it could still drift down again near the 38% retrace zone near 5 and perhaps form a reversal hammer showing a rejection of that level.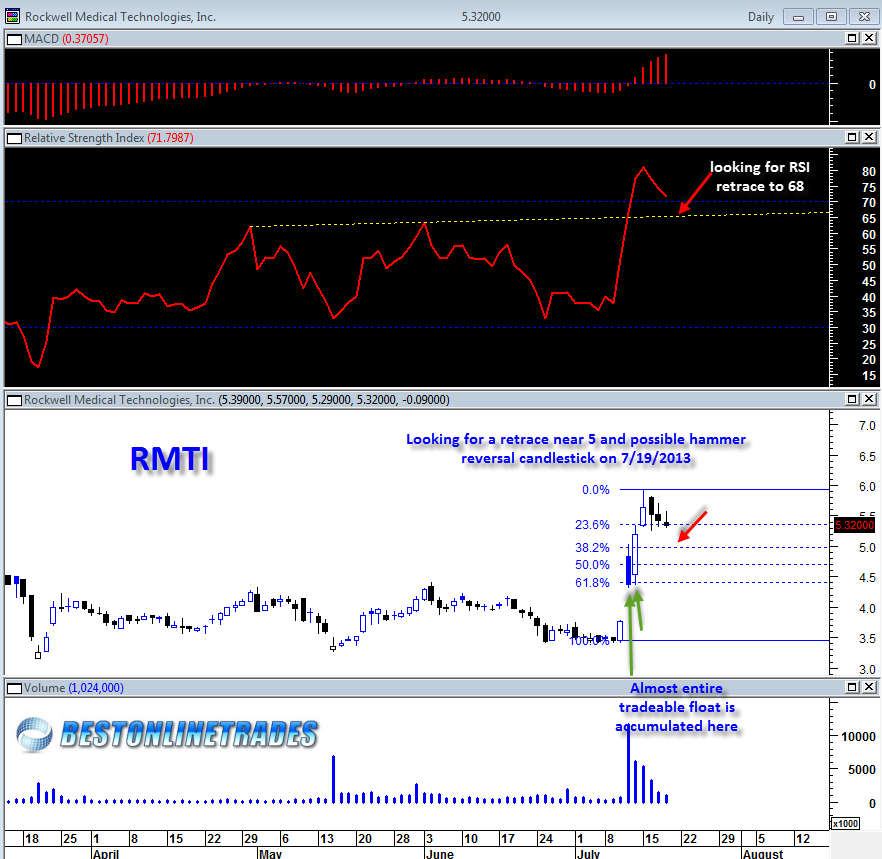 Whether RMTI forms a reversal hammer tomorrow will be interesting.  Either way, I am looking for it to surge again on a move past 6.  It is possible it could generate another opening gap up from a level near mid to low 5's.
It will be very interesting to see whether RMTI cracks below 5.28 and gets a shakeout going to near the 38 percent retracement level.  It would be even more interesting if it forms a reversal hammer candlestick to finish the day tomorrow.
Most ideal entry is if RMTI moves back up to 6, holds 6 and then rushes higher.
If RMTI has the 'right stuff', then any more retrace down from 5.32 will be contained at the 5 or 4.95 level.  It would not be uncommon for the market makers to try to run the stop loss orders just under the round number 5 leading to a shakeout.
Perhaps RMTI will take a longer time to retrace downward than just 1 or 2 more days, but a reversal hammer candlestick tomorrow July 19th, 2013 would sure make for a possible gap up and go situation for early next week.
Lets see how it plays out over the next few days…
I will be doing a follow up post on this one…