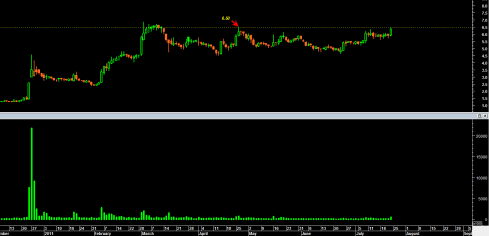 RPRX, a highly speculative biotech stock that I have mentioned on a previous occasion appears to be at an important juncture.  The juncture is the 6.50 price level which it needs to fully exceed (preferably with a full price bar above the level) to consider it a breakout.
It would also be good to see the 6.50 price level exceeded with 700,000 or more shares in volume.
A breakout is not a breakout until it actually is.  Strange as that may sound, it is true.  I have seen many a 'potential' breakout, only to see prices reverse by end of day and fail back under and into the previous range the stock was trading in.
If RPRX is not able to exceed the 6.50 level this upcoming week with conviction then one may have to assume it will remain range bound and head back to the bottom of the recent longer term trading range.
For now I do not believe that will happen.  My charts are saying that RPRX has a good shot at an upside breakout this week.
August 8, 2011 is their 'earnings' date according to Yahoo Finance.
If this plays out according the typical stock mark up script then the following will occur:
RPRX will continue to trade higher into a breakout leading and up to the August 8, 2011 earnings date.  How high that could be is unknown at this time.  Then on the actual date the stock will peak out and sell off sharply, probably in the form of a spike retest of the previous breakout range which is 6.50.  Then if the stock really has merit, continue higher after that.
This stock is extremely volatile and sometimes moves very very quickly.  The above paragraph describes the typical pre earnings behavior and then the typical sell on the news type of action.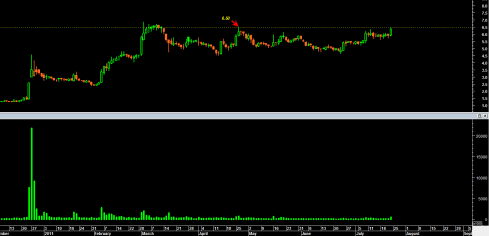 If that is the script then RPRX should be held from Monday of this week (assuming a valid breakout is indicated) and then sold right on the day before earnings.
If RPRX does breakout above 6.50 this week then it is very typical for this stock to have an up day of 20% or more during the mid portion of the day but then sell off near the close creating a long looking topping tail candlestick.  If this occurs, but the price is still closing above 6.50 then it is still potentially bullish indication for more upside into the earnings date.
However if the stock initiates a breakout and then sells off hard enough for it to close back under 6.50, that would be an entirely different story.  6.50 is the dividing line here for bull or bear.  And 700,000 shares is the ideal volume that is needed.  Anything greater would be a plus.  It would seem unusual for that amount of volume to be achieved on a lazy slow Monday, but we will just have wait and see what RPRX can deliver, or not.
Monday's action may be enough information to tell if RPRX is ready for the limelight or not.
I will post a follow up post very late Monday evening.