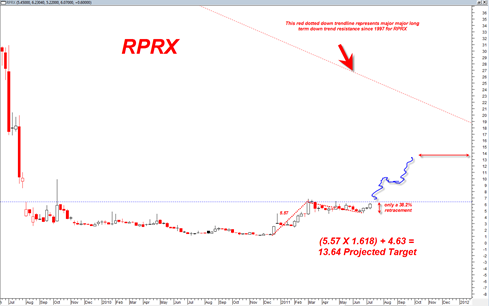 RPRX Repros Therapeutics Inc. is a highly volatile and speculative biotech stock that currently has a projection of 13.64 based on the 38.2% Fibo retracement it did from the rally that began in December 2010.
RPRX had a nice move from the bottom of its narrow trading range today and has to make a key decision soon on whether it wants to bust out north of the trading range or struggle again and fall back inside the narrow trading range.
A case can be made that RPRX is ready for prime time and ready to bust out of the current narrow range.  If it is able to and with sufficient volume then it does make a good case for a possible 13.64 eventual target for RPRX.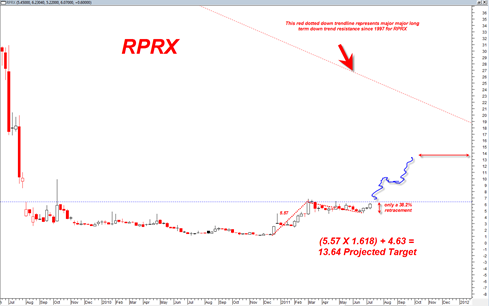 The stock shows a long base and a pattern that may resemble a head and shoulders bottoming formation or a somewhat large cup and handle formation.
6.4 remains the key level to break and hold above for RPRX.  Struggling at that level or a sharp daily reversal at that level would suggest RPRX wants to fall back down inside its narrow range again.
For now the prospects look good for an upside breakout.  The weekly MACD histogram is on a buy signal  and the stock has already done 3 to 4 months of sideways consolidation which should serve as energy for a new move higher.
The long dotted line at the top right of the chart above is the VERY long term downtrend line that connects peaks in RPRX from the 1997 top and serves as major major very long term resistance.