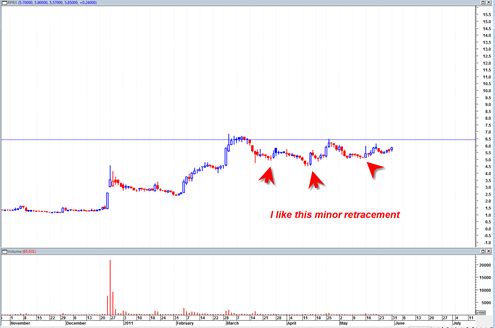 I like the potential setup of RPRX right now and going into the second half of this year.  In case you have not noticed yet, biotech and healthcare sector is on fire right now and currently has the strongest relative strength of all trading sectors (see first chart below).  Relative strength of sectors is important because it shows where current strongest momentum is and strongest money flow.
This is good for timely moves in hot stocks within that sector.
Previously I remember the oil sector was almost literally on fire.  But now it is near the bottom of the barrel in terms of relative strength and the healthcare and biotech sector are the new lead sled dogs.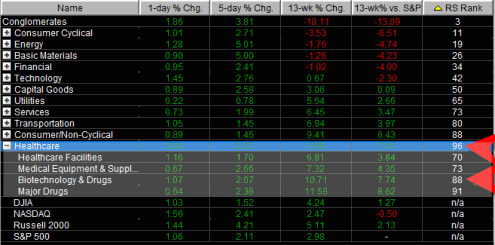 So with that in mind, RPRX Repros Therapeutics is a highly speculative biotech stock that has under 8 million shares in the trading float.  This means that this stock can really really move if enough volume comes into the stock.  A 10 million share day for RPRX would be the equivalent of trying to fit a basketball into a garden hose.
I cannot speak to the fundamental backdrop of RPRX, but I can speak to the technical picture.
RPRX has a 1.5 year base and also what appears to be a cup and handle type formation, with the handle possibly near completion.
If true then RPRX could get a move going to 15 and change in the months ahead.
I like the massive surge in volume that formed the right part of the cup and the volume shrinkage on the handle portion.
RPRX could do one of two things from here, go down and break down from the current handle.  Just drift and not get any type of breakout and still just churn sideways.  Or it could start to prepare for lift off.
I would like to see the lift off scenario.  There is also a very long down trend line from 2007 that meets right about where we are trading right now.  So a big move up from here would be a breakout from a 4 year major down trend line.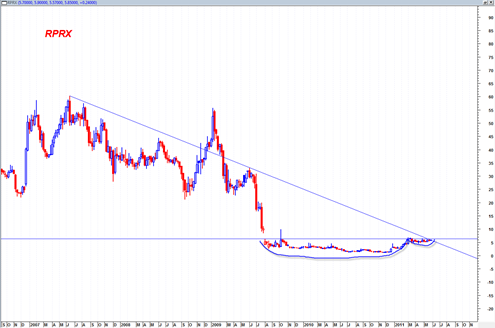 I like the fact that the recent 3 months consolidation has been only a very minor retracement after the previous rally.  It tells me that it is building cause for another possible move higher.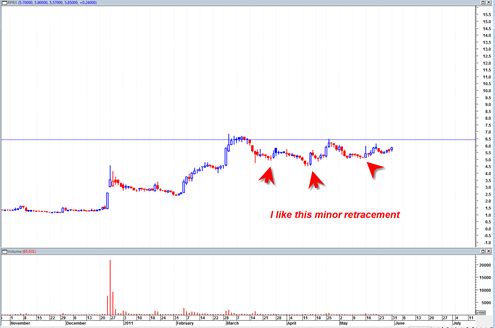 6.40 is the ultimate battle line in RPRX.  Above that range and I think RPRX could go air borne.  I am currently long RPRX as of today and would like to see a break above 6.40.  I am willing to wait several months for this to occur.