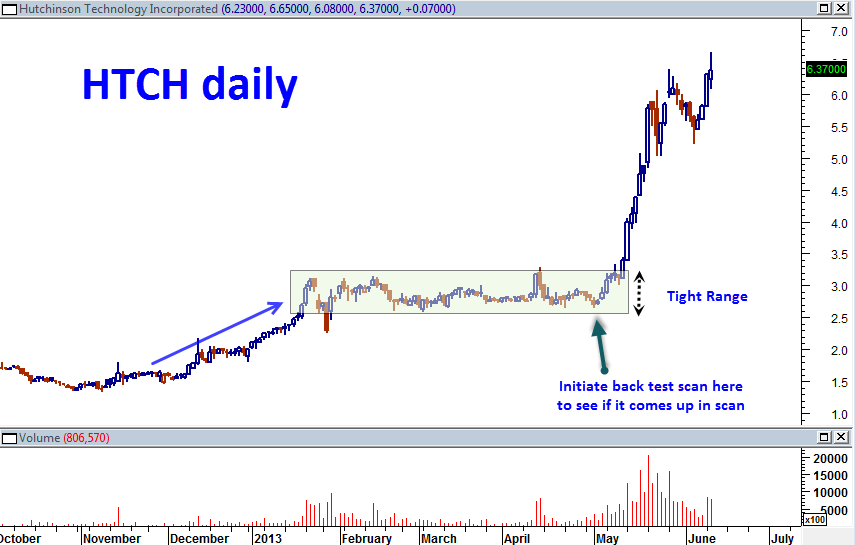 So far RVLT has been behaving like an ideal breakout.  It has room to 5.50 because of a tradeable void between 4.00 and 5.50  .   5.50 marks important resistance for the stock.
Unfortunately I was not able to highlight RVLT earlier on BestOnlineTrades site.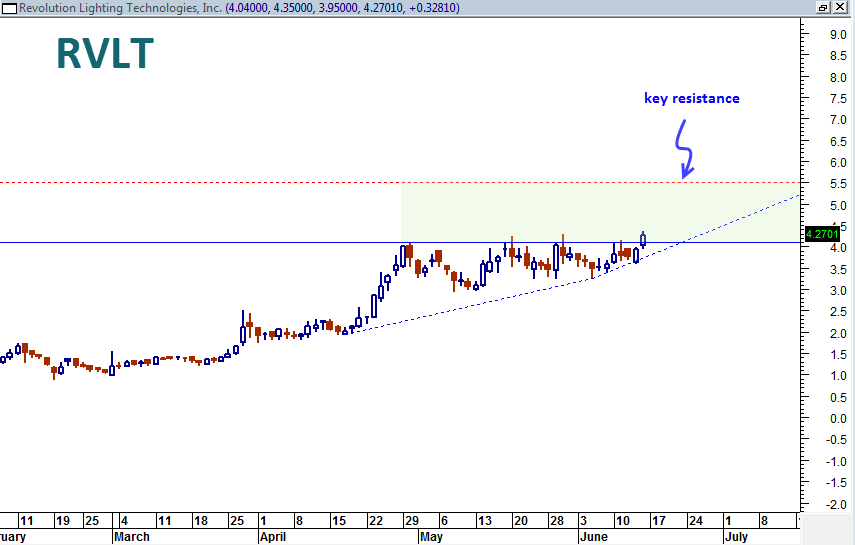 RVLT is the result of an experimental scan I created in my Metastock trading software program.  I am able to scan 7000 stocks and come up with scanning criteria or filters to find attractive stock setups.  I do not consider myself an expert in creating scans or filters.  It is simply a matter of trial and error.  One technique is to find a stock that has already performed well and then to identify its good qualities and see if you can have it come up in your scanning program.  Of course this will only work if you are able to scan based on previous calendar dates in the past.
RVLT has some more room left to move north as long as it holds the breakout properly today.
For example take a look at HTCH which has a breakout north some time ago from a very beautiful high tight flagging/rectangle pattern: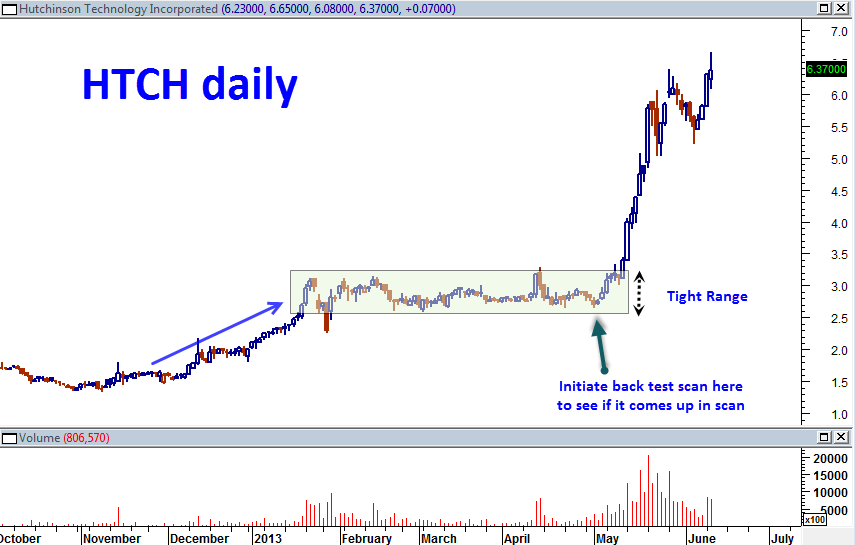 Note the nice tight consolidation range of this stock which occurred after a previous extended advance.
So what I wanted to attempt to do was to see if I could come up with a scan in Metastock that would deliver this symbol to me if I did the scan as of the date of May 5th, 2013 or so.
So I set up criteria where I wanted a stock within the last 1 or 3 or 5 months to show me that it trades within a tightly compressed range (ie. max 20%) between price highs and lows.
Then I set the filter to show only those stocks within the last 4 or 6 or 8 or 12 months that have been up at least 50% or so (price advance.).
I set some other criteria such as minimum daily trading volume and shares that are trading at 10 dollars or less but greater than 1 dollar.
To my amazement HTCH was spit out in the scan as of May 5, 2013 !
Stocks which show nice sideways low percent trading ranges after a previous strong advance are ideal breakout candidates.
Of course it goes without saying that not all breakouts are created alike.  Not every breakout will be successful and will certainly not deliver 100% gains like HTCH did. It is all a matter of probabilities and risk management.