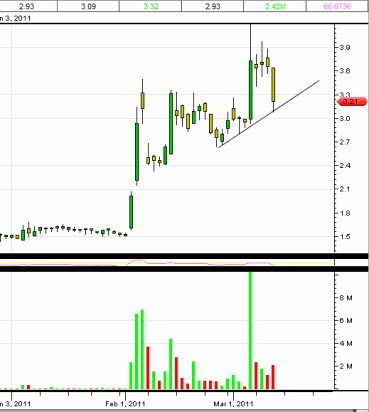 SCON did not do as I expected.  On the contrary it looks like it is moving back down to test the apex of the triangle formation it broke out of.  SCON volume today on the down move was not so bad and earnings (or lack of earnings) will be out tomorrow.
It is still trading along an uptrend now and if somehow after tomorrow the 'news' is good maybe it can get a new surge higher going.  But clearly SCON did not want to surge right up into its earnings date.
SCON needs news of some kind of real order from a big player so they can move from development phase to real revenue phase.  They have the potential to address the two largest markets in the world, telecom and energy.  But if they come up empty handed tomorrow then maybe the short term traders will want nothing to do with it shorter term.
It will be very interesting to see if there is a bad move down in the early AM tomorrow and then a massive upside reversal hammer with a strong close into end of day…  It should be a wild one tomorrow for SCON.