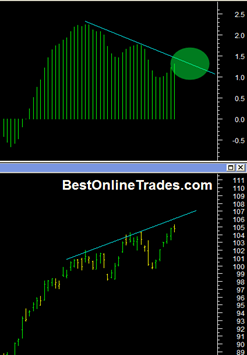 My sense is from a market timing perspective is that we are coming into some very interesting weeks ahead here closer to mid September.  I previously mentioned that there exists a triple bearish divergence in the S&P500.  These bearish divergences in a bullish uptrend can drag on for what seems like an eternity sometimes.
But it is dangerous to outright ignore them or pretend that they do not mean anything.  Remember, the indicators do not lie.  This triple bearish divergence is forming near the middle of September and would confirm itself further if the next few macd histogram bars are lower than the most recent ones.
I find it curious that this triple bearish divergence is forming near the Autumnal Equinox which occurs on September 22nd and Rosh Hashanah.
I definitely would not be heavily long the next couple of weeks because the risk based on this setup is looking much more favorable to the downside then the upside.  We should by the end of next week if this divergence plays out correctly or not.
It might not be a bad idea to look at some of the inverse or inverse leveraged ETF's as a way to target the short side.
A triple bearish divergence is bad enough as it is.  The fact that this one is building right here in mid September gives it added relevancy in my opinion.