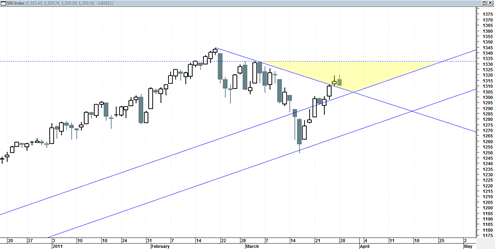 Today several indices did a small bearish engulfing candlestick formation today.  The nasdaq composite and the SPY did, but other indices including the sp500 did not. 
This small bearish engulfing needs to be confirmed tomorrow with a close under today's low for example on the SPY to show it is a real signal.  It does not look very convincing and we may simply be at a pause in the current mini up trend.
The most potent bearish engulfing formations I have seen in the past are the ones where the bearish engulfing candle easily closes lower than the previous day by a good margin.  This does not appear to be the case today.  It may be a head fake.
So at the end of the day the sp500 is still trading within this described 'neutral zone' waiting to make its next move.  It is also still trading above the mini bear down trend resistance line.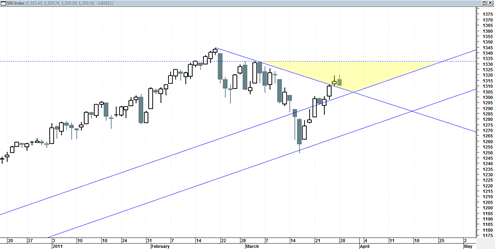 I do not see any reason to be ultra bearish right here.  If we get a hard down tomorrow that confirms today's bearish engulfing candle and pushes us back under the mini bear trendline then perhaps it is time to re evaluate.
The RSI of the summation index is perched right under the 30 percentile line and if it manages to bust above 30 would be consistent with higher prices.  It is not exactly in a clear bullish configuration but there is some potential. 
As long as the sp500 either drifts sideways tomorrow or only very slightly down, there is still come bullish potential in the market in my opinion…