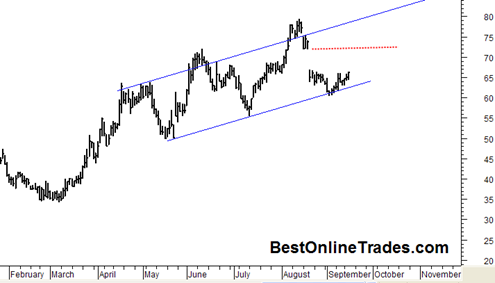 SHLD Sears holding Company looks like a decent swing trade setup right now for a possible scalp of about 9% on a filling of the downside gap.  This is a pretty straight forward setup. 
The price action of SHLD has been oscillating within a somewhat large channel and now we are at the bottom of the channel and RSI is still below the 50 level and I see that MACD is on a buy.
I have not really focused or done much swing trading but the strategy is quite compelling and seems to be a high odds strategy because you are confining your setups to existing TRENDS and taking action when the risk appears to be the highest, but is probably quite small.
Most of the time it would seem that prices only oscillate between highs and lows, hence the birth of swing trading.  It is only the rare occasion that I see big breakout moves and vertical price action.  I have spent a lot of time trying to find those kinds of setups but in all honestly perhaps it is a more prudent strategy to go with swing trading or at least make it part of chosen trading strategies.
So SHLD could be a buy above 66.5 and then a sell at 71.79 assuming it is able to get up there for a gap fill.