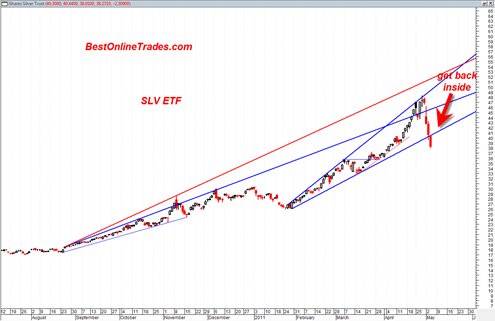 The SLV looks like it has obeyed the top channel broadening wedge resistance line and has since strongly reacted down off of it on very heavy volume.
This top channel line was known in existence for a long time and was pointed out here many times at BestOnlineTrades.com.  There was a chance that the SLV could trade to an extreme above 47 for a blow off move above the top channel line but now we see that this was not meant to be.
Now the SLV finds itself trading below the bottom broadening wedge boundary line and ideally will find a way to bounce back up into the broadening wedge.
There should be some type of 'automatic rally' from either the current price range or a little bit lower from here that could last for several days.  These almost always occur because of the previous strong momentum.  But it can be an art, not a science in pin pointing the exact low before it actually occurs.
Ideally a gap down opening tomorrow would serve as the panic low and mark the low and then the SLV could trade higher from there.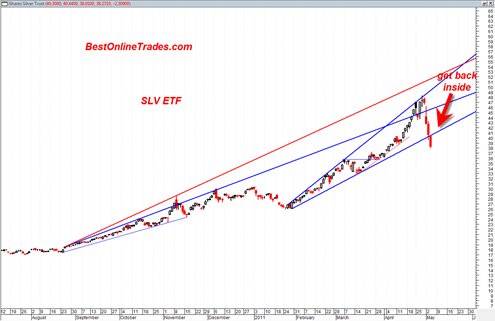 The bottom line going forward for SLV is that it is likely to move into trading range mode from here.  This strong sell off reaction occurred near the 50 price peak of the 1980 time frame.  So this decline could be the beginning formation of a 'handle' of a massive 30 year cup and handle pattern.