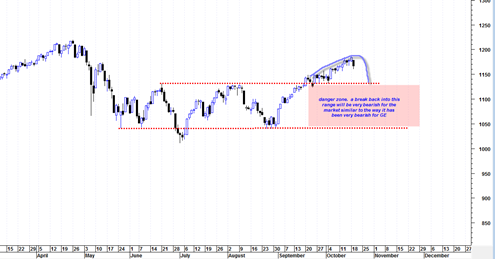 If this omen regarding General Electric Company still holds true then the picture is not looking very good for the sp500.  GE has shown in recent weeks a false upside breakout followed by a very high volume break down and 2B sell signal that was on higher volume than the May 6, 2010 flash crash.  This is not good.  It is saying to me that GE can move back to the bottom of the current swing trading range eventually.
If GE is still somewhat of  proxy for the rest of the broad market, then it could mean that the sp500 is headed for some serious downside in the weeks ahead.  But there is still plenty of tape action between now and then, and there could still be remaining topping action in the current range before anything too serious gets started.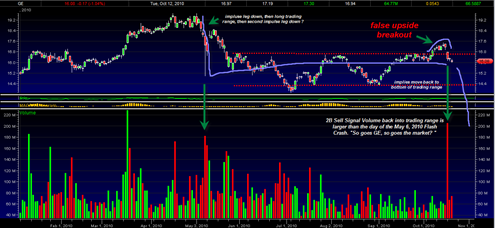 The chart of GE above shows the parameters I am talking about.  The most striking aspect of the chart is the high volume break down back inside the trading range that is greater volume than the May 6 2010 flash crash.  This is a very bearish sign and possible sign a new impulse move down is on deck.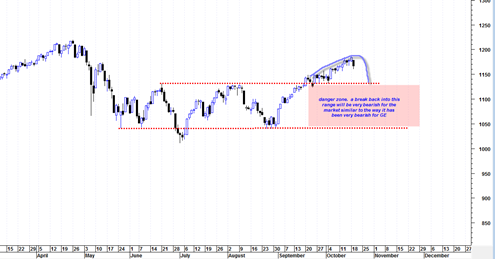 If you look at the sp500 chart above you can see the comparison I am trying to make in terms of the low volume false breakout and then the possible move back into the swing trading range which would imply a move back to the bottom of the swing trading range which in the case of the sp500 would be close to 1040 level.
Obviously the Sp500 is an average, not a single stock.  But I think the action in GE is very telling.  The action in the XLF and financial stocks is also telling.  A high volume break down at the topside of the trading range (without even being able to break out north of the trading range like GE did) and then today a reversal hammer and long topping tail.