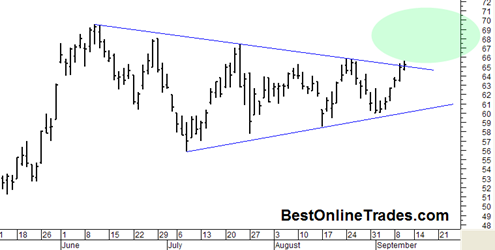 I cannot remember the last time I have featured a high priced stock like this before.  Most if not all the stocks of ETF's I have mentioned here at BestOnlineTrades have been low priced stocks with a few exceptions.
SOHU (Sohu.com) looks like it may want to get some sort of breakout going soon.  Today it pierced the top portion of the triangle formation boundary line but it definitely was not a sign of strength in terms of price or volume today.  So today just may be a hint about what is to come.
If I am wrong, then SOHU will quickly fall back inside this triangle and make another trip down.
So possible confirmation is an opening price tomorrow that is above the top boundary line of the triangle and a daily price range that never peeks under the top boundary line as well.
Sometimes high priced stocks do good things too! Lets see if SOHU is up to the task tomorrow and next week.