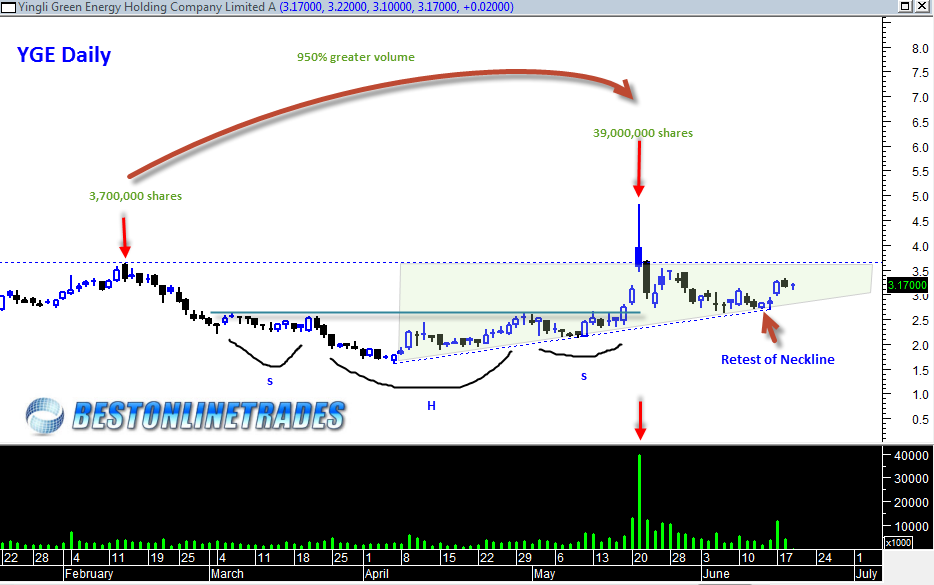 Solar stocks have been strong as of late with CSIQ being the clear leader.  Many Chinese solar stocks have also had a nice run but many seem to be lagging and having a hard time for more continued upside follow through.
YGE is interesting to me because it could be a good case study in volume analysis. 
Yingli Green Energy on May 21st, 2013 surged into a huge spike high on 39 million shares, the highest one day volume since the stock started trading according to my price data.  This 39 million share day so far has not been tested.  In addition this 39 million share day tested a previous price swing of February 13, 2013 which had 3.7 million shares trade that day.
So this means that the February 13th 2013 price swing was tested on greater than 900% volume.  This is quite unusual.  When one sees previous price swings tested on 50% greater volume that is quite a bullish sign.  In this case the volume test is order of magnitudes greater.  I think it is also significant that the May 21st, 2013 swing high remains untested.  Usually very high volume swing highs like that are at least tested.  That May swing high is about 50% higher from where YGE trades today.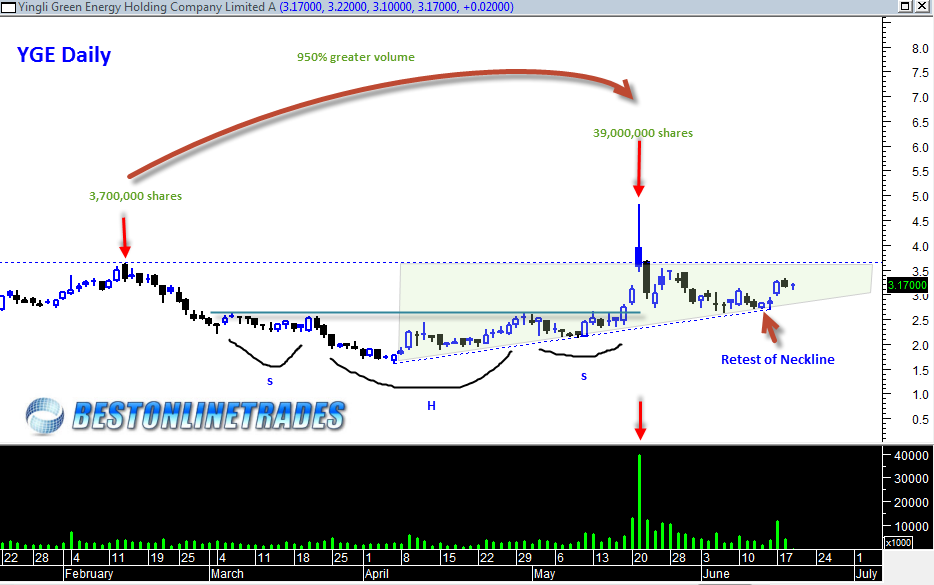 YGE is somewhat of a cumbersome stock with a spotty trading trend and general messy trends.  It is the type of stock that waits until the last minute to make a significant move.
Still, I think YGE could be an interesting volume case study.  The chart above shows how YGE formed an inverse head and shoulders bottoming pattern from March to May and then broke north from that pattern on extremely high volume.  Then YGE drifted down in a slow orderly retest on light volume to meet the supporting neckline.
Within the last few trading days YGE has surged north out of this consolidation pattern and now sits in a holding pattern.
YGE should not break below 3.10 to keep the near term momentum intact. If it breaks below 3.10 then it could move back towards the up trend line for another retest near the 2.85 range. It really needs to break back above 3.33 as a first sign that it wants to make another attack on the 3.60 range.