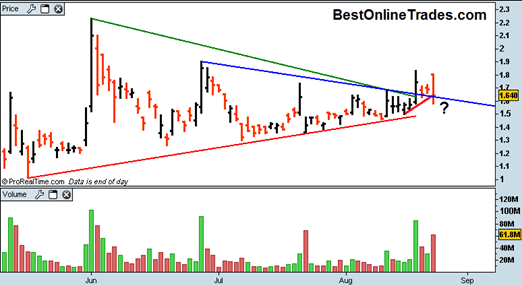 I may do one last follow up on CTIC in the future, but this update will serve as a final commentary for now.  I would like to remain bullish on CTIC and tell you that it is going to do a continuation breakout, but after today's price action I just cannot bring myself to do it.
You remember in a previous update I mentioned about how CTIC was extending very far into the apex of this symmetrical triangle and how that can sometimes weaken potential breakouts.  Too much energy can sometimes be lost when a stock extends out too far into the apex of a symmetrical triangle.
So it is very possible that we are dealing with a failed breakout here and now a return back into the apex of the triangle.  If that happens then CTIC could be at risk of breaking down even more thereafter.
The price swing by itself today just looks really bearish today.  You had a gap opening and then a relentless selloff on very heavy volume to end the day down and even slightly pierce the former down trendline.
From this price bar alone I suspect that someone is unloading a ton of shares.  So there is supply coming into CTIC.
I will revisit CTIC one more time at some point in the future to see if this analysis is correct.  But for now I believe it to be safer to sit on the sidelines in CTIC and take a more cautious approach.
Incidentally my next post is going to be on the SP500 which is showing some signs of a possible short term bearish divergence which could also put some downside pressure on the rest of the market.  I noticed quite a few bearish reversals in many stocks that I like to keep track of.