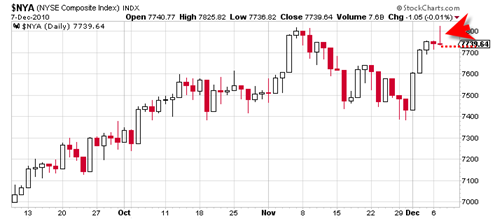 There are some signs of a possible short term downside reversal in the market today but we do not have confirmation yet.  We also have possible signs of a weekly trend change developing but again, no real confirmation yet.
The NYSE Composite index put in a potentially bearish daily shooting star reversal candlestick today.  We will need a close below today's low to confirm it.  The market has made a habit of completely ignoring many potential reversal candlestick formations, so the first sign that today's candle reversal does not work would be for a strong and steady opening tomorrow and solid close.
But a gap down tomorrow and solid down end of day close could set the beginning stages for some type of more meaningful trend change.
My weekly chart on the sp500 is showing we are at a significant potential reversal area as well.  There is a bearish triple M on the weekly MACD histogram on the sp500.  But the week is still very early and we do not have a final weekly price close which could affect the nature of the bearish triple M markedly.  So more data is needed but I can see potential of trend change signals here.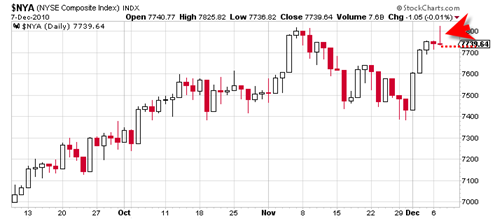 I may switch to a BOT Short signal in the morning right from the open if the environment looks ripe enough.
Any time a stock or index revisits the previous highs there is always the risk of a failure retest and/or a top.  This shooting star reversal could also just be an intra day consolidation near the previous highs.  Today's selling reflects those who 'bought high' in early November 2010 and wish to break even and get out.
The high in April 2010 on the sp500 was 1219.80.   If Wednesday's trading action manages to hold above 1219.80, then I have to view that as a first sign that today's intraday reversal was just a head fake and not necessarily a sign of a real reversal.