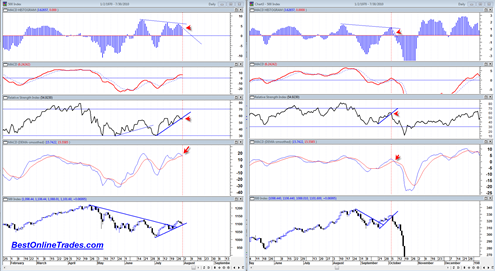 Here is another quick look at the 2010 and 1987 stock market crash comparison charts again.  This time I have also plotted the DEMA smoothed MACD on both time frames which tends to give 1 to 5 day earlier sell signals as compared to the regular MACD.
Right now the DEMA smoothed MACD is inches away from a new sell signal on the market.  The only thing missing from the comparison is a big down candle in the 2010 time frame that would bust under the minor uptrend since July 1, 2010.  Do we get that Monday? It sure would help the comparison a lot. 
The up trendline on the RSI (Relative Strength Index) since July 1 is also showing that a downside break from it could come at any time, similar to the 1987 period.
MACD histogram continues to drift lower towards the zero line showing that bearish momentum is still slow but also still dominating for now.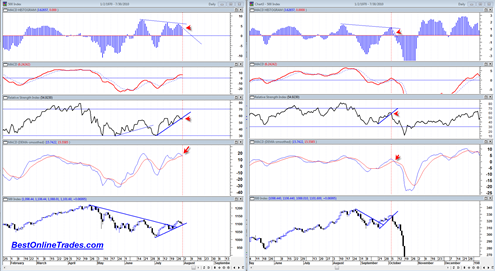 This comparison chart by the end of next week is either going to look a lot more interesting (if your bearish) or not interesting at all (also if your bearish).  The end of next week is clearly going to move the current indicators into more defined stances and reveal much more concrete information as far as the next big move.
The Semiconductor HOLDRs (ETF) already has both a bearish MACD cross and a Dema Smoothed MACD downside cross.