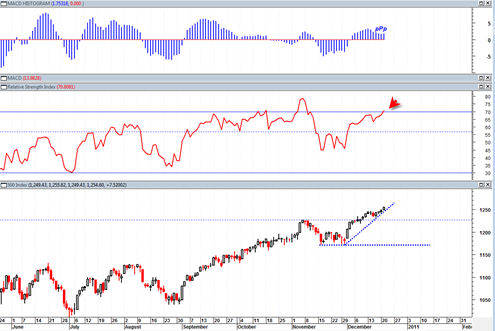 The sp500 today continues to trickle higher on some of the lightest volume levels of the entire year.  The MACD histogram is showing a bullish triple P setup which would be confirmed with a close above today's price high.
The RSI is close the 70 level and could mean a move above it into the power zone.  This could be a bullish sign as we move into end of week and set up some follow through next week into the end of the year.  But after that it would make sense for some type of first week of January 2011 pull back to start some type of retracement into the 2010 yearly candlestick.
The market has been surprisingly resilient and somewhat deceptive as well.  I would have to characterize the tape as strong, but the low volume nature of the advance makes one question the longer term underpinnings of the rally.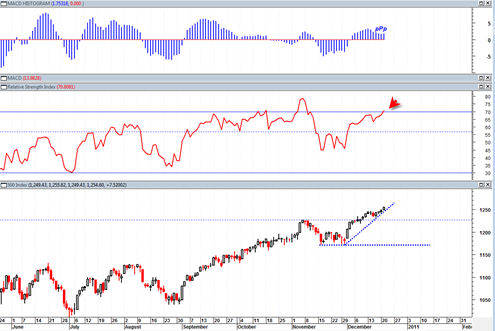 BestOnlineTrades will probably attempt a short signal on January 3, 2011 if the indicators come into agreement with a possible pullback at that time. 
In my opinion it would be very unlikely that the market will just continue relentlessly higher right from the first week of January 2011 and the follow weeks as well.  There should be some type of retracement into the 2010 completed candlestick before any type of new 2011 rally takes hold.