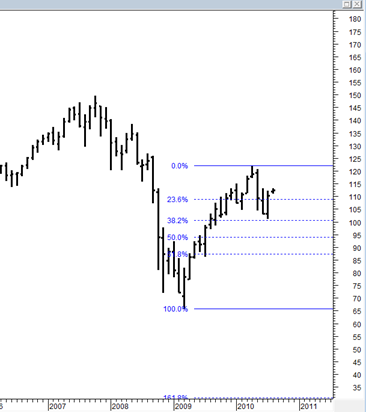 That is not my forecast.  I believe it is the forecast of David Bensimon with Polar Pacific Capital.  Apparently he has made some great calls on the market, gold and other commodities such as crude oil.
I am not quite sure of his method but it appears to involve the use of Fibonacci and time cycles and maybe Gann as well ?
It has been quite difficult to find mega bulls lately, ones making extremely bullish forecasts.  Perhaps David Bensimon is the exception to the rule.
First I would say that it is probably way too far a stretch to even be talking about anything higher than 1500 in the sp500.  Why not set a target of 1500 first since it is such a huge resistance level of decade importance, and then if it is successfully broken topside, then start to talk about 2000's and higher.
It would appear to me at this time to be extremely unlikely that 1500 would get broken even if we did make another charge up there next year or thereafter.
The longer the forecast the more difficult it is.  He is also on record for saying that gold should move to 2200 to 2400 an ounce I believe by end of next year.
Anyway if you want to listen to some of his recent interviews you can here.
If I had to come up with a strong reason why he is right or why the market will go much higher into end of this year or next then it would have to do with just one simple long term price chart that shows the current correction was only a .382 retracement so far of the entire advance since the March 2009 lows.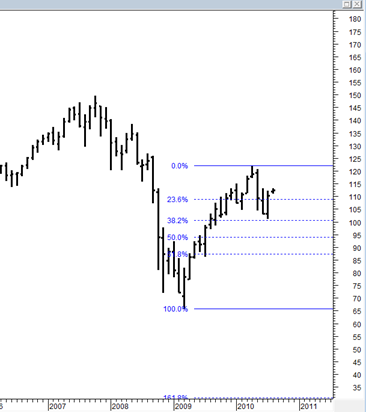 Markets and stocks that only do 38% retracements after extremely strong advances should be presumed to have lots of internal strength and weak sellers.
Some of the strongest moves I have seen in individual stocks have occurred after they have completed 38% retracements and then moved higher.  Every stock, index and future must make a choice when it starts going into a correction from a strong advance.  The choice of retracement it makes is very telling about what it wants to do next.