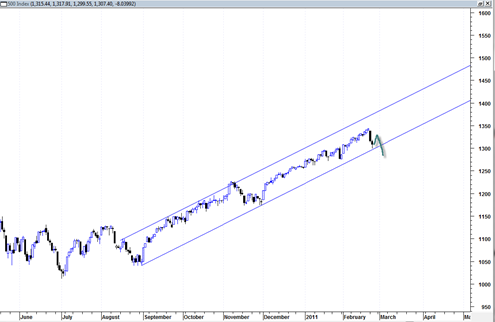 Today the sp500 blasted through 1313 mentioned yesterday and closed under it.  Now we see that the sp500 is right at bottom channel support and suggests that the market moves into 'bounce mode' during the next 2 to 3 trading days.
I suspect that this bounce will not immediately materialize into new 52 week highs as was the case with previous mini corrections.  On the contrary, after this bounce there may exist a good short opportunity.
The daily MACD is on sell mode but I think the market will 'fade the sell' during the next several days and move up to create an A B C down type pattern.
Key is the channel support range.  If on the next attack of the bottom channel line we see a break through to the downside then it would open the door to a longer more complex correction.  But if channel support holds then one has to presume the power trend will continue higher again.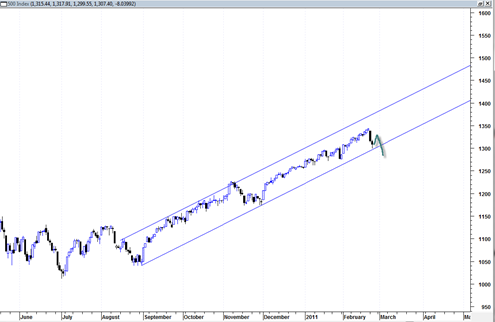 The trading channel since early September 2010 has been very powerful and very persistent and working for quite some time now.  Testing channel support again without breaking down through it could give the market an added does of confidence in the weeks ahead as it would be the third touch of the bottom channel line.  Better to keep an open mind than presume a total break down in the market at this point.
This symmetry in the sp500 post I did a while back seems like it is playing out.  The number of bars on the right side were greater than on the left side, but they were pretty close and seems to suggest we will get more than just a several day type correction this time around.