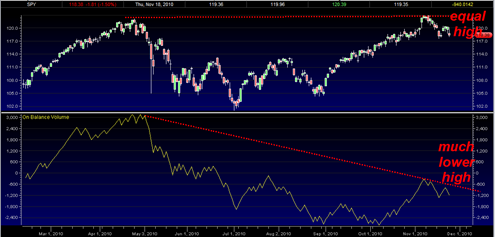 In yesterday's post on the sp500 it seemed as though we had a clear intraday reversal at hand and an easy chance at higher prices.  I did mention in yesterday's post that, "A down market tomorrow that retraces and closes more than 50% into today's reversal hammer would potentially eliminate today's move as a clear pivot point to go higher."   This is clearly what happened today and caused me to step back and say 'whoa!'.  I do have to admit that my bullish comments yesterday were a clear mistake.  Congrats to Ed, one of the comment posters at BestonlineTrades for making key bearish observations recently.  There was another comment poster who also made a key bearish comment on AAPL and the gold price that it could be forming a head and shoulders top but I forget who it was.
In hindsight the NYSE summation index and the daily MACD were clearly in sell mode and deserved greater respect than yesterday's one day reversal.  The NYSE summation index is now in the most bearish stance with the RSI of the summation index at 18.74 and at similar levels where the biggest declines have occurred (ie. May 2010).
I failed to highlight 11/16/2010 down price swing in any of my commentary over the past couple of weeks.  This was a very important price swing because on the SPY it was on 300 million shares.  That was the first high volume down swing we have seen in quite some time near this topping area.  I should have gone into more discussion about how that high volume price swing could easily set up an A-B-C down leg based on the recent 3 day very low volume upside rally.
This now appears to be the case.  That we are creating an A-B-C down leg with the B to C leg about to engage either this week (only 1.5 trading days left in this week) or next.  I am still doing more analysis on this possibility and there is still some confusion as to whether or not we will be able to bust below the 11/16/2010 high volume swing low since today's down volume was relatively mild.
But it does appear that the market is pivoting and attempting to get some type of downside washout type move.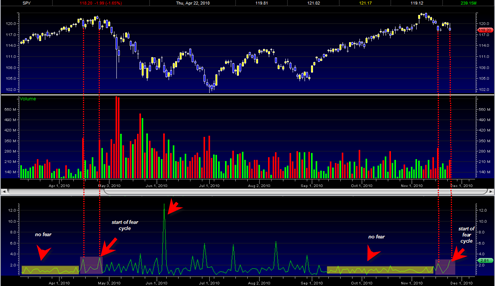 Closing ARMS index today was in the 2.8 to 2.9 range which is the highest closing reading since late August 2010.  If you note the chart above we see that closing ARMS readings have for a long time been contained in the 'no fear' yellow shaded range areas during September, October and November 2010 and also during March and April 2010.
But then there began a higher surge of closing ARMS readings which started to break the foundation of the market (red shaded section).  In late April 2010 this was a kickstart to a much deeper correction.  It could very well be that the recent two closing high spikes in ARMS readings are the kickstart to a more serious decline phase.
The Very Bearish Monthly Setup
There does now currently exist a potentially very bearish monthly sell setup in the sp500 and the other major indices.  The sell setup exists going into the month of December due to a possible 'shooting star' or reversal hammer formation in the November 2010 monthly candlestick.  There are only 3.5 trading days left in the month of November 2010.  That is not that much time to reverse this potentially very bearish monthly shooting star candlestick.  It looks very bearish to me especially when taken in the context of the sp500 failing to get a continuation breakout above the April 2010 highs.  A shooting star showing itself near a previous crucial peak is never a good sign.  It could mean a very hard down first two weeks of December 2010.  The seasonality factors seem to refute such a possibility, but a close in the sp500 near 1181 by Tuesday of next week is going to keep the bearish potential alive.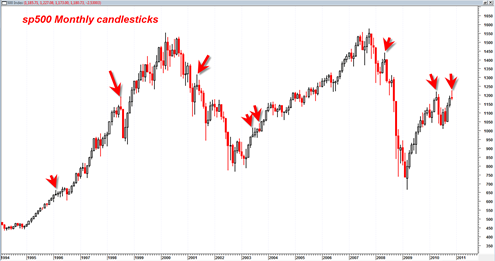 The chart above shows many monthly shooting star reversal candlesticks since 1995.  The May 2010 collapse was preceded by such a candlestick and also the kick start to the 2008 drop also started with such a candle.  The 1998 collapse showed a similar candle.  There were several that did not work including the 2003 and 1996 time frames.
The first sign that this monthly sell setup is working properly is if we see rapid continuation selling start next week after the holiday and perhaps part of the week after as well.  If we see ease of movement to the downside starting next week then it warns that the November 2010 monthly shooting star candle is working.
The XLF financial ETF looks like it has done a clear failed topside breakout above its long trading range.  A break below 14.19 warns that it could move back to the bottom of the range near 13.30.
Up Rest of This week and then Down Next ?
Despite the drop today it seems reasonable to assume some type of upside bounce into end of this USA holiday trading week.  That would only leave 2 days of November starting next week and then some type of downside continuation the rest of next week.
The recent news on Ireland and North Korea may be too difficult for the market to shrug off right away.  One cannot help but think that the Ireland situation has the potential to snowball into something bigger affecting the rest of Europe.  And the North Korea situation, while currently not a 'major panic news event', has the potential to turn into a major fear factor. 
In the long term stock markets always seem to recover from war situations and rally strongly higher, but it is the first phases of these potential new wars that seem to do the most initial damage to markets.  And markets that are already extremely overbought can be especially vulnerable to 'new war news'.
Ominous Looking On Balance Volume on SPY
Here is the On Balance Volume versus the SPY ETF chart again and it continues to show quite an ominous looking bearish divergence.  The On Balance Volume has failed to confirm the SPY equal high 'by miles'.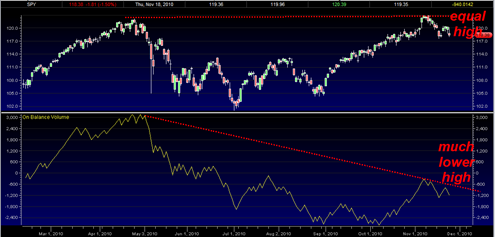 At this point I think there are more risks of downside price action than up.  But I am still skeptical that any dramatic move would come by the end of this week.
I am looking for confirmation that the November 2010 monthly shooting star candle is going to have some real firepower (a signal of 1 or 2 heavy down weeks to start December 2010) going into next week.