This market is too tough to call right now.  The bounce did not work and the VXX break down did not work.  I have to describe today as bearish but cannot conclude that the market will blast higher or lower from here.  But the bias seems to be more weakness.
If we truly are in extreme bearish mode then this market will take advantage of the one day bounce we had yesterday and push RSI all the way back down to the lows again perhaps in crash form.  This is what happened in May 1940.  RSI had a slight bounce and then the market got crushed for another equal leg down.
There really should have been follow through today from yesterday's bounce, but there wasn't.  So now we appear to be in the grey zone where anything goes.
I think most traders and technicians would agree with me that we have not really truly seen a capitulation day.  It sort of seemed like we did a few days ago, but then when you look at stocks like AAPL it looks like those shareholders have not really thrown in the towel.
It could be that we are headed for some type of MASSIVE low right on August 19th, 2011.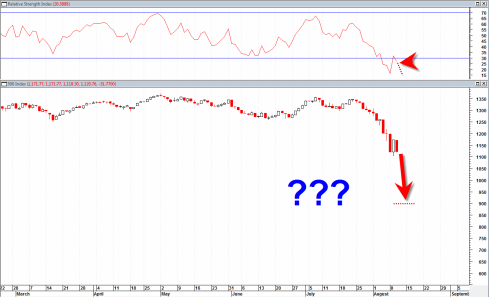 So I suggest you pick a number

  , that number will likely be our low point…
P.S.  The BOT Short signal which I issued way back in Late July 2011 is still active.
This is what I wrote on July 26, 2011:
After reviewing several charts on many different time frames I am coming now to the strong conclusion that we have likely hit a major major top in the market in the current time frame and revert back to a previous post where I indicated that we are likely to see massive downside price action into the October 2011 time frame.