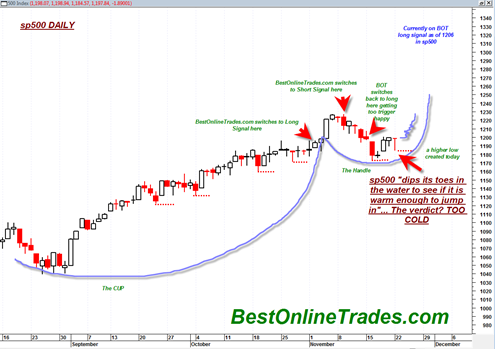 The sp500 today once again rewarded the bullish crowd.  Today is the kind of day that should tell one if he/she is short the market, that it is not the correct path of least resistance.
The sp500 today 'dipped its toes into the water today' to see if it was warm enough for swimming.  The verdict based on the tape action today says to me that the water was much too cold and it was readily rejected, and near the end of day.  It seems like the classic kind of day were the market teases the bears inviting them to take the plunge, only to pull the rug out from under them by end of day.  This is so typical, but has happened frequently enough by now that I am no longer shocked or surprised.
It should be pointed out that in a predominant bear trend the exact opposite is to be expected.  At key points in the market during a bear phase one would typically see close to end of days failures and sell offs that sets the tone for the next day or the rest of the week.  But in today's case in my opinion the verdict was bullish.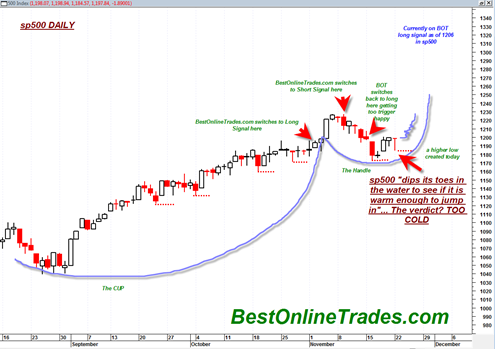 In a previous post here at BestOnlineTrades dot com I talked about how the QQQ Nasdaq 100 Tracking ETF would likely create a higher low to form a pivot point for a new leg higher creating the handle portion of a cup and handle formation.  This concept applies to all other other indices as well.
Notably again today the SMH ETF (semiconductor ETF) showed amazing strength and appears ready to bust out north to a new 52 week high.  The sp500 and other indices appear to being playing 'follow the leader' at this point and could catch up by weeks end ?
Today's action makes me more confident that the long side is once again the right side of the market.  Of course one could say that because this is the Thanksgiving holiday week that we are almost guaranteed to be up this week, but I would rather let the tape action confirm the potentially bullish seasonality, instead of following the seasonality with blind faith.
The UUP ETF (US dollar index ETF) showed a weak attempt at breaking higher today and may start to curl over down again.  This seems to support the case of higher index market prices in the week(s) ahead.
Ideally for a continued bullish case we would need to see a close above today's reversal hammer.  A down market tomorrow that retraces and closes more than 50% into today's reversal hammer would potentially eliminate today's move as a clear pivot point to go higher.