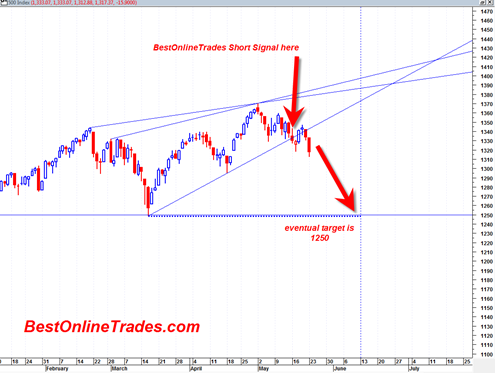 The sp500 is confirming a weekly MACD histogram sell signal today and today's action puts the market in my opinion now in 'bear mode' for the near term and intermediate term future.
We correctly turned to a BOT Short Signal on the market on May 11, 2011 at 1338 and since then the market has complied with the signal.
I expect 1250 to be tested on the sp500 eventually.  How long that would take is a guess at this point but generally speaking downside price action tends to be faster than upside price action.
I am a bit confused at this point on whether the June 13, 2011 turning point has occurred a few weeks ago or whether the sp500 is moving into a panic low on June 13, 2011.  It is still too difficult to make a decision on that point.  It does seem as though the turn has already occurred and the current negative price action is a sign that the cycle turn is occurring NOW and that this could be an important phase shift for the market.  But I will keep an open mind and see how the waters look as the weeks progress.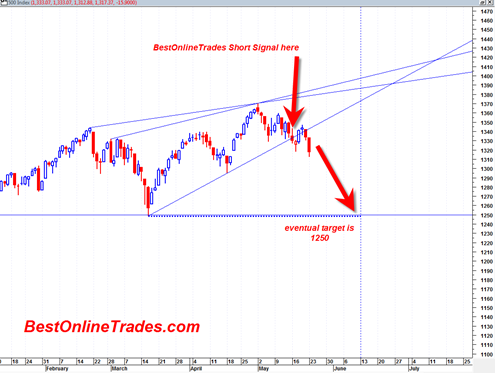 We are currently declining within a somewhat orderly channel and the downside volume today on the SPY ETF was relatively light.  We need a downside break down through the current down trending channel to see more volatile action, perhaps somewhat similar to the March 2011 price action.
The swing low at 1250 should be tested! It was a very high volume swing low and sticks out like a sore thumb.  It will be difficult to exceed and should also mark an important stopping point/ swing trading range point for the markets.
I also suspect that the precious metals will move opposite the broad market and feed off paper equity weakness.