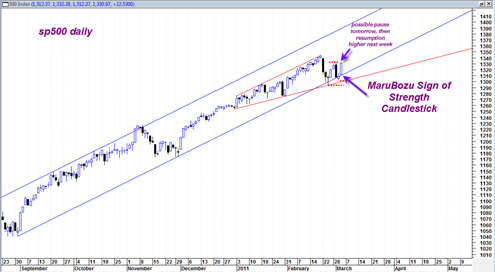 The sp500 today initiated a massive rally off of the lower boundary of the long term channel support in force since early September 2010.  I have to view this as confirmation that the bullish trend is healthy and alive.
I indicated in yesterday's post that the bears really had to take some action today to initiate some type of attack on the swing low of 2/14/2011 which would in turn create a lower low situation for the market and open the door to a more involved correction.
Instead we held the higher low and had a very strong upward reaction off of channel support, a bullish sign.  It is quite amazing how the market continues to leap through hoops and dodge bullets to keep this mega persistent bullish trend going.  It evaded a possible bearish monthly trading candlestick for the month of February by trading dramatically higher on the last trading day of February.  And today it evaded a more bearish break down scenario by maintaining a higher low and holding channel support.
On CNBC fastmoney the line was "Will Financials Lead the Next Rally Higher".  So we see that already after this very brief and somewhat minor correction they already make the assumption that we will be at new highs quite soon. In fact it seems like they take it for granted.  The bullishness is almost scary lately, but as far as I can tell from the charts it still appears to be valid.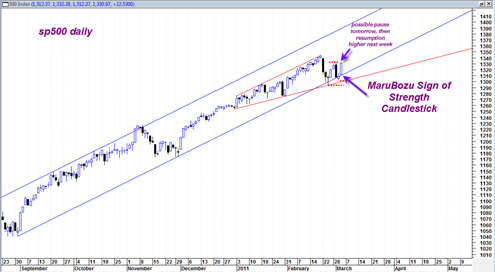 Given today's sign of strength move and confirmation of the channel trend, I once again have to consider that the market is on a mission for this mid June 2011 Marty Armstrong cycle date as a potential turning point.
A few days ago I was thinking that the market could evolve into a downward correction into the mid June 2011 date, but not it appears once again that the market wants to recycle itself into a further upward trend.
This market is like the energizer bunny with fully charged batteries...