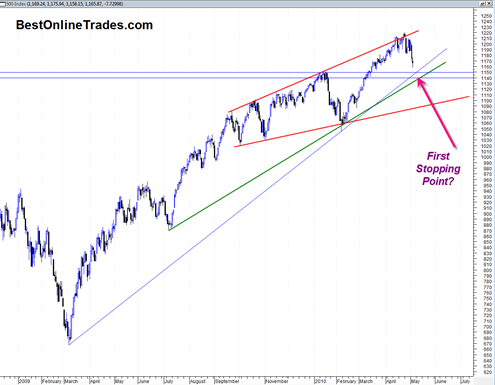 I think today is simply a mid point type move of the first leg of this correction.  It just does not feel like the bottom yet.  If we had a high volume reversal hammer today then I might say that we are ready for a nice big bounce topside.
Instead we got an indecision doji candlestick which was also on almost the same volume as yesterday.  That tells me that the market is simply digesting the recent minor support area and while it may go sideways or slightly up for a day or two, I expect soon thereafter another big body blow to the downside to create a mini exhaustion type move.
After reviewing my charts I can clearly see that 1140 on the Sp500 should be the start of a violent bounce to the upside.  I am hoping we print that level either tomorrow or Friday as a means to close out shorts. I have not decided yet whether it will be worth it to play the upside bounce but for now these are the guideposts I am looking at.
Assuming I am correct that we get a good bounce going from 1140 then I would expect the peak of the next reaction rally to serve as a pivot point to trade back down to the bottom side of the ascending broadening wedge (the solid red lines in the chart below).
The problem comes in determining how high the reactionary upside bounce will travel.  I have to keep an open mind on that front and I am even considering the possibility that the market will trade all the way back up to the all time highs into May 23rd, 2010 creating a bearish double top.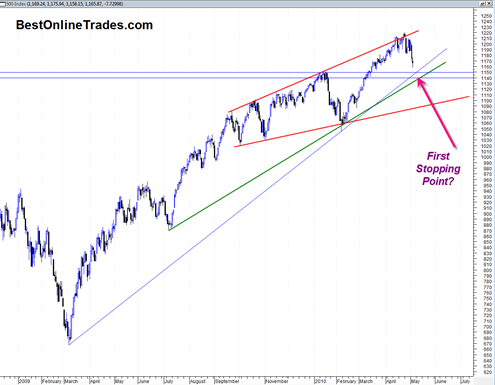 The May 23rd, 2010 date is a very significant potential market turning point.  It happens to be when Jupiter opposes Saturn and the last time this occurred was in mid July 1991 and marked the beginning of a huge drop in the market and also Iraq invading Kuwait and us going to war.
The issue is whether the May 23rd, 2010 date is actually a low OR a high.  There is no way of knowing at this point and we need more data.  But at this point I am thinking the most bearish scenario would exist if the market trades right into that date as a high and then everything falls apart very rapidly.
So ideally, we get a bit more washout either tomorrow or Friday or early next week, and then some type of upside reactionary rally gets going.
I am crossing my fingers for 1140 on the SP500 !!!!