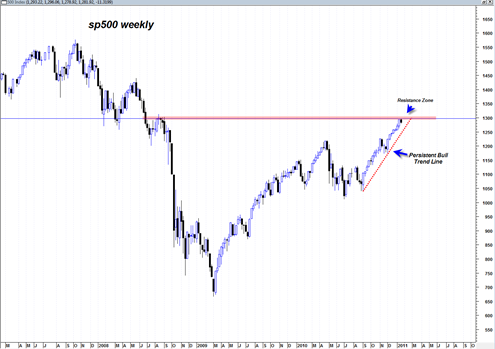 The sp500 today did a more meaningful decline than what we are used to seeing.  We have gotten used to the sp500 going up in a straight line with zero down days, so today was definitely something different to behold.
Today's decline seems consistent with the sp500 getting close enough to the all important 1300 resistance zone which I mentioned on a few other occasions.  This resistance zone was built during August of 2008 right before the famous mega plunge of September and October of that year.
So now we have a sell off developing right off of this zone and it could imply that we are in for a more involved correction.
Notable today however was the speed with which we hit a high ARMS index reading.  Today I see that closing ARMS hit a closing value in the 2.4 range which to me is quite high on the first decline right off of the top.  When I have seen ARMS zoom that high on the first decline off of a top it usually means fear surges into the market very quickly which can halt the decline just as fast in the near term.
If we get follow through to the downside tomorrow then I am expecting the decline to be halted in the sp500 at a daily RSI (relative strength index indicator) level of 59 as there is a support zone there from previous declines.  It could very well be that today's decline was the majority of the decline already.  We will just have to wait and see if there is any follow through tomorrow.
Of course there is always the risk that a near term decline evolves into something much more involved.  We have 8 trading days left until the end of this month which would put the finishing touches on the January Monthly candlestick.  If we find ourselves by the end of hte next 8 trading days near 1256 or lower on the sp500 then that would definitely be a sign that this correction is possibly going to stick much longer as it would show a quite bearish monthly shooting star candlestick or other bearish variations.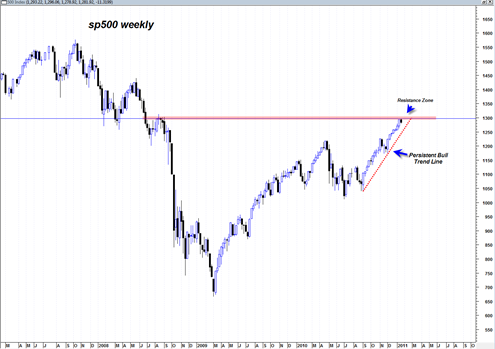 Also worth pointing out is that we have still not created any bottoming tail on the monthly, quarterly and yearly candlestick.  If market is strong enough then it will continue to evade creating such a bottoming tail for the duration of the next few months.