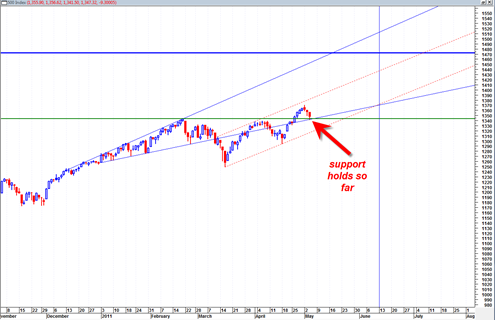 So far at least the sp500 is doing a typical Wyckoff retest of the previous high and on the SPY the volume was robust but not unusually high.  But still it was at 182 million shares today versus the 2/18/2011 high which was on 130 million shares.  This is normally not a good sign for any retest.  The market should not be pushing with higher volume on a retest of a previous high.
Whether or not this leads to a big drop below today's low this week remains to be seen, but for not it is a potential warning sign.  Until that time, I am viewing today as a simply Wyckoff Retest of the break out area.
The sp500 is still trading within this red dotted channel area and also is holding support above the solid green horizontal line.  That is about as simply as it needs to be at this point.  No need for over analysis paralysis.
The NYSE summation index is starting to curl over slightly and is in a sloppy drifting mode.  It is not exactly speaking with conviction but it is still on a buy signal based on the 5 and 10 day exponential moving averages.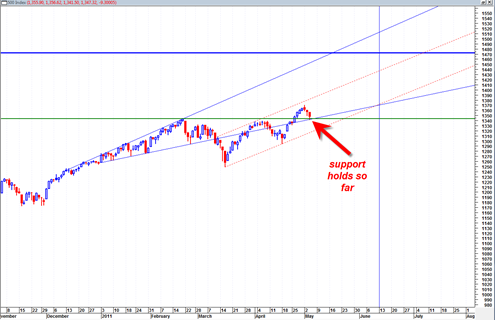 If the sp500 breaks badly below the horizontal green line this week then I may have to consider a bearish stance on the market.  But honestly I would rather wait to see how the market reacts (if it can get down that far) to the bottom red dotted channel line before sounding any major alarms.