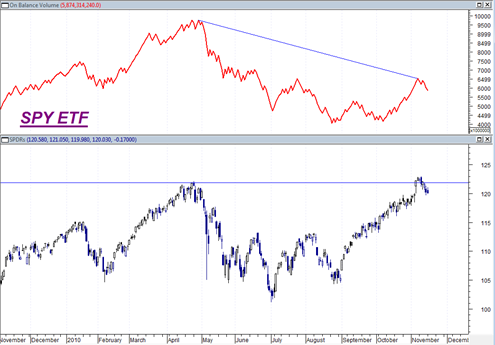 I may have been a bit too quick with the trigger finger today switching back to long signal on the sp500.  I will switch back to short signal if the sp500 gets a decisive close under 1194.
Today we had a reversal after early gains.  It was not an extreme reversal or a super bearish in the sense that we still contained the price action within last Friday's candlestick bar.  Still I am not sure we are done working off the overbought condition, and I am also not convinced that we are done doing a typical Wyckoff retest.
There is still the possibility that we could sink back under the previous breakout support line. 
The volume today was again quite light on the indices ETFS.  That lack of sell side volume is what has me thinking this retracement will be shallow.  Still, a surge in downside volume could still be on deck.  Perhaps the rest of this week provides more clues.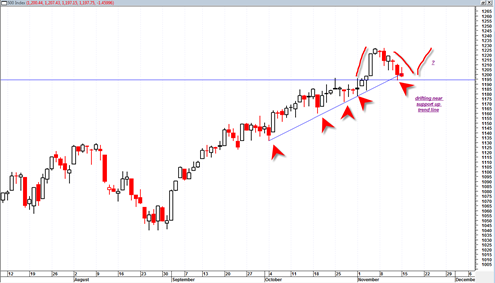 There are two factors I am still considering that could send the market much lower from here than currently seems possible.  One is the US Dollar Index which again showed strength today.  The second is the On Balance Volume indicator which is showing that the recent long rally despite hitting new 52 weeks is not being confirmed by On Balance Volume.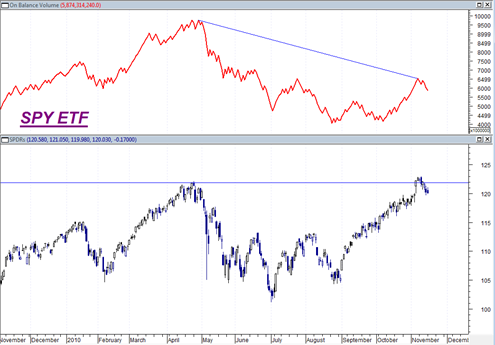 If the market is strong enough then perhaps it can do some more churning into end of this week and set up some kind of upside week thereafter into the Thanksgiving Holiday weekend.