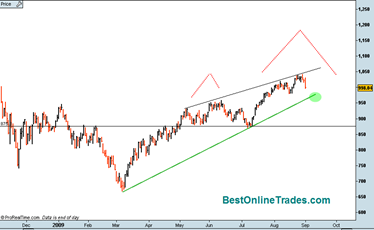 There is no doubt about it, the SP500 finally started a more serious correction today.  It was able to evade this correction for all of August but the shorter term bearish divergence was hinting that some sort of down move was in store.
You can clearly see from the chart that the SP500 is confined by the longer term green up trendline and the top black channel line.  It appears that we want to trade down now and test the bottom of this channel.  It is going to be important for that green up trendline to hold price during the month of September otherwise it could warm of a more involved correction that may see us trade down to the 870 range. 
But for now I am going to assume that the green up trendline holds support.
I also sketched in a couple of red lines on the chart pointing out the possibility at least that a somewhat large head and shoulders topping pattern may develop if we continue to correct down to 870 on the Sp500. 
If this is true, then we have already completed the left shoulder and about half of the head of the pattern.  I can't confirm if this is indeed that type of pattern yet, but a break of the green up trendline and a swift move to 870 and then bounce from there will be an important sign that this pattern could be forming.
But first things first, lets see how severe this correction is for rest of September.