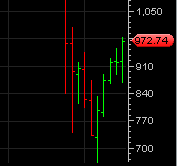 The SP500 looks like it wants to get a retracement going.  Currently I am thinking somewhere near the 950 level as I mentioned before being minor support and normal in the sense that often one will see price retrace right back to the breakout area.
Also under consideration is the fact that we are only a few days away from the end of the month of July.  The little chart to the left shows monthly price bars on the SP500 index.  So the next opening price and initial price action for August will soon be printed on that chart.  It is possible, but unlikely in my opinion that the opening and continuation price for August will just easily continue at and above the 972 or higher level.  So instead I think we should see more of a retracement into the current July price bar for maybe the last few days of July and and then some days into August.  Then after that is complete a resumed move higher.
I am also noticing at least the possibility of a bit of a US dollar bounce upwards and that could stir some headwinds on the SP500 shorter term.
A modest price pullback during this time of year would not be extremely unusual.  We already know that the SP500 was able to make a valid break of the recent highs with adequate volume, so a retracement starting now is not the end of the world.
Looking at a price chart on the monthly scale has been very useful to me recently when you look at it in the context of what kind of range the next succeeding price bars will have.  It helps to quantify what the probabilities of the next price move is.
I should add also that if the SP500 were to continue upwards at the same rate as the last two weeks then we would quickly be close to SP500 level of 1100 within the next 2 weeks which seems highly unlikely, though not impossible.  So the upwards rate of change just got a bit ahead of us here.  So now I believe we will be in retracement mode. We shall see.
 
Short Term
Long Term
SP500
 
 
Legend:
yellow=neutral
green=bullish
red=bearish