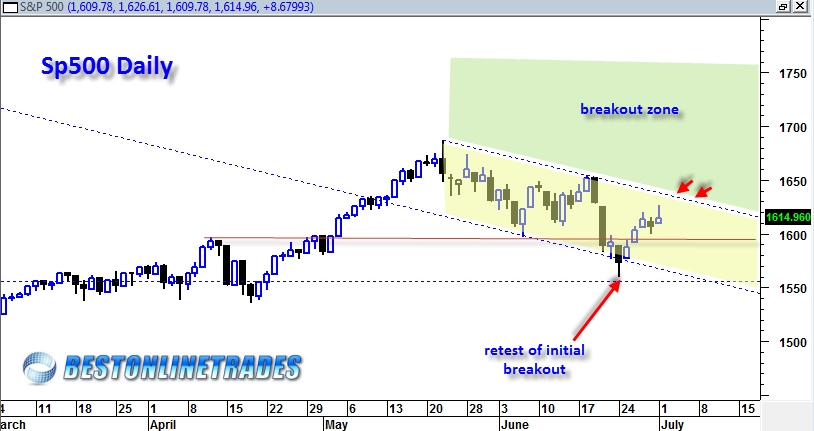 I am starting to think that the sp500 may just be finishing a typical garden variety correction instead of a new down trend.  It really depends on whether or not the recent testing of the breakout range of 1560 is complete, or if it was an initiation move for a further decline.
The market so far has reacted north from a bullish gartley pattern and the jury is still out whether this bullish gartley pattern was a signal of an ending correction or simply a pause in a downtrend.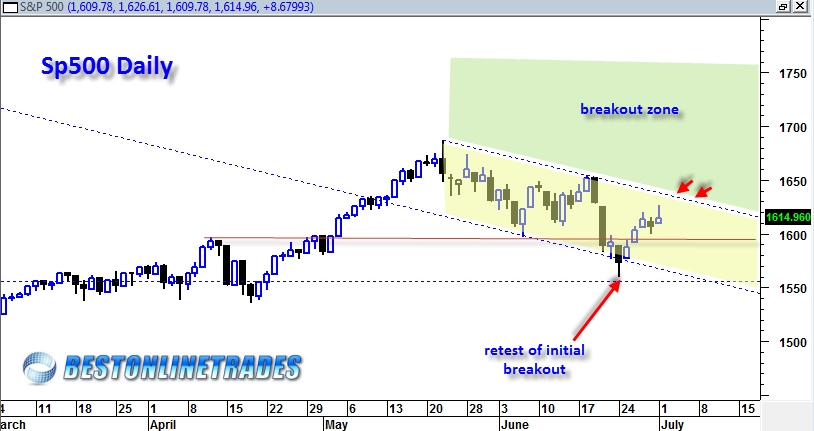 The Russell 2000 and the Biotech index and the XLF financials seem to be holding up quite well.  It is a fact right now however that on the daily chart of the sp500 and most other indices as well that we are still trading within a downward trending channel.  The market needs to break up and through the down trend line of this channel before we can start to conclude that this correction is over.  The second option is a drift back down to the 1560 range for another attempt to crack the lows. 
The way the sp500 is setup now it seems like a 50/50 proposition towards either direction.  The possible tri star doji pattern I mentioned in a previous post is not really showing any effect as of yet.
I like to keep an open mind still.  We have to keep an open mind to the possibility that the retest of the initial breakout range (See second chart in this link) was a successful one allowing the market to trade higher again.  If this correction was simply a retest of the 13 year breakout resistance line, then it would start to make the market comfortable to trade to new all time highs again.  This is the bullish interpretation and still a good possibility. 
The bearish interpretation is a swoon back down to the 1560 range and then a failure to hold support… It is all up to the market now…