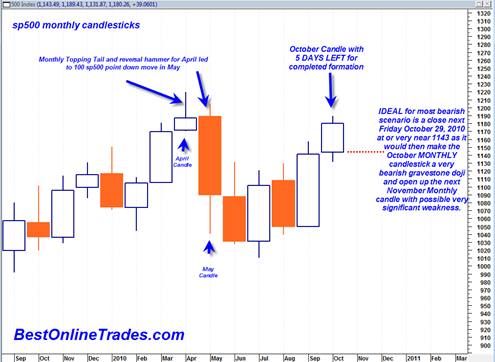 Who says you cannot trade off of the MONTHLY sp500 candlestick chart?  When it comes to end of month it can be a useful guide for the potential trade setup.  There are exactly 5 trading days left in the month of October not including today.  That means that next Friday, October 29, 2010 will complete the October 2010 monthly candlestick.
If you have been reading my posts then you already know that I am looking for downward price action either into the November 2 and 3rd time frame or at the very least a sideways price action into that time frame and then downward thereafter.
In my view the bear dream scenario is for the sp500 to close near the 1143 range on 10/29/2010 because that would put the closing price equal to or nearly equal to the monthly October opening price.  This would in effect create a very bearish looking topping tail on the Monthly October candlestick similar to the one that formed in April 2010.  If we close 10/29/2010 exactly at 1143 then it would create a reversal doji.   If we close slightly under 1143 then it would start to look like a gravestone doji which would be more bearish.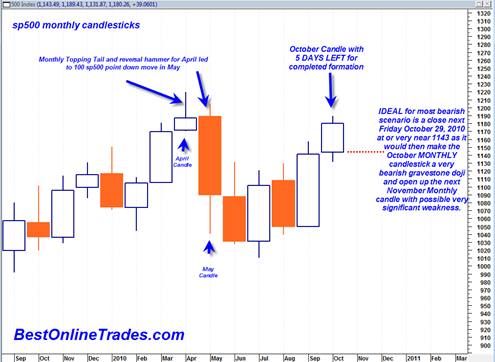 In the chart above one can see that the reversal hammer of April 2010 led to a huge 100 point + decline in sp500 in just 6 trading days that started May 2010.  Of course after that the May candle continued to form with very WIDE up and down swing trading ranges as the monthly candle continued to take shape.  I do not know if we can get another flash crash or 100 point down in first 5 to 10 days of November like we got in May 2010.  But I would say that a very important pre condition for such a repeat would be a 1143 or lower close on sp500 by end of next week.
So the dream bear scenario is for the market to close at 1143 or under by end of next week which would then lead into a potentially bearish 'sell the news' event of the elections and Fed meet.
On the other hand, closing at 1180 by end of next week would not be too helpful for the ultra bearish scenario.  It might imply that the worst we might see in first week of November 2010 is just a 3 to 5 day downward shakeout.
So there appears to be a lot at stake for the last trading week of October 2010.
Choppy trading is fine next week, but again we really need to see some sign of weakness (big down candlestick) sometime next week to help the bearish potential.
If I want to be really strict I think I almost have to say that it is a very important requirement for the sp500 to trade near the 1143 range by end of next week.  That is the very strict interpretation and requirement needed for a very hard down early November 'sell the election and fed news' type scenario.