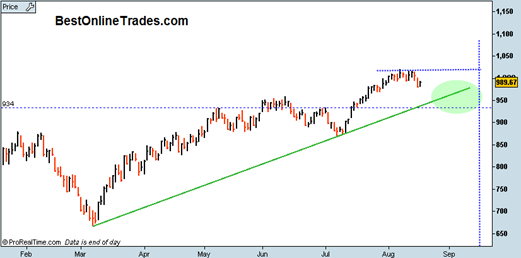 It looks to me like the SP500 continues to be on a mission to its supporting longer term green up trendline.  It is hard for me to see the SP500 continue higher for the rest of August or the first week of September.  Instead it looks like it will either go sideways or get a downward bias right into trendline support.
It may take as late as mid September until we are clear.  Even if we get a quick break of the trendline, there is support in the 940 range.  So a downward break of the trendline will be a concern, but the real concern will be a break down through 940.
But I am looking too far ahead.
This consolidation is going to keep the market busy for a while.  When and if we do get a touch of the green up trendline, I would like to see the market touch it quickly as if it is stepping on hot coals.  That would be the best scenario for the bulls.