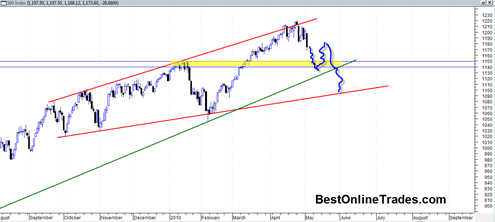 The SP500 today confirmed the bearish forecast and is on target to move towards the 1140 1150 range this week hopefully.  At that time I will close out TZA Direxion Daily Small Cp Bear 3X Shs ETF position and then look for a possible re entry point after the market (sp500) bounces to somewhere near the 1170 1180 range on the Sp500.
Expect heightened volatility on both an intra day and daily basis.  The increased intraday volatility can make exit and entry points very confusing, but I can guarantee you that there will be some very violent and strong bounces once support areas are hit.
I am thinking that the market may trade further down into Thursday and then develop some sort of relief rally on the jobs report this Friday.  However, if the market builds some sideways support or slight up move during the next two trading days, then it may be reasonable to assume that Friday will serve as a continuation point for more selling into Monday.
The current RSI (Relative Strength Index) reading for the SP500 is 44.84.  So it has more room to go down before getting into oversold ranges.  I have calculated that a value of 1150 on the sp500 would correlate to an RSI value of 38 which would put it closer to a good area for a bounce.  So the RSI 38 value of Sp500 of 1150 seems good confirmation that a good bounce could start near that point.
Sometimes what happens is that the market will initially trade under the support area for a number of hours until finally catching enough reverse momentum to trade back up over that support area.  I think that could happen this time and so I would not be surprised to see first an intra day move to maybe 1140 before the market can reverse higher.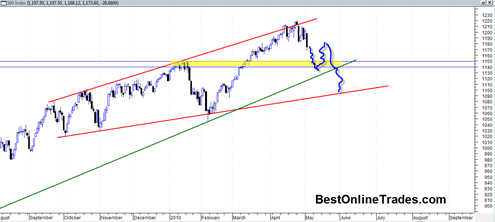 The tape action today is confirming that the mid April 2010 price high is likely a very major top in the market.  Weekly oscillators are starting to roll over and will soon likely confirm that the market has transitioned to a down trending market possibly into the October 2010 time frame.