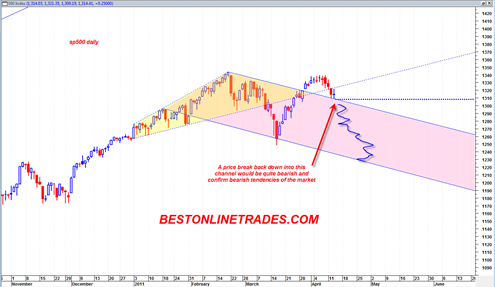 If the sp500 trades a full price bar below 1309 tomorrow with 1309 as the high then it will be trading back inside the bearish trend channel and make the recent last 2 to 3 weeks a 'false breakout' above the channel.  This would be quite a bearish situation and further confirm the bearish trend.  Today the price formed a doji or pausing candlestick that seems to have tested the underside of the broadening wedge line.
A gap down opening tomorrow starting at 1309 would certainly do the trick to clue in that we are about to break back inside this channel.
Still, there is still an opportunity for the market to trade bullish in the current range.  If the sp500 trades sideways or up, with today's low of 1309 as the final low then a bullish picture could emerge from here.  An added reason for a potential bullish move out of here is the lack of heavy downside volume.
We do not have to break back down into the bearish channel tomorrow, but it would certainly help the current bearish possibilities of the market.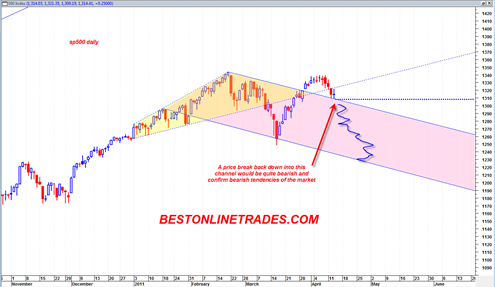 The yellow shaded area is the broadening wedge formation.  The pink shaded area is the bearish channel formation.  The price action up in the clouds above this channel is the 'potentially false breakout above the channel'.
Breaking below the blue dotted line would start to confirm the more bearish possibilities for the market.
In some cases a break down back inside the channel can lead to a rapid move down to the bottom of the trading channel