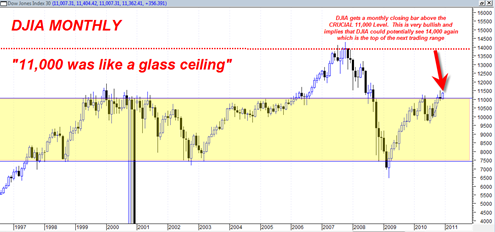 The market's reaction today to the jobs report was pretty much a non event.  The lack of heavy reaction to the downside is quite telling and the strength continues to be notable.  The market appears to be on 'auto pilot' into the end of the year.  It almost seems too easy to presume that the market will just coast into end of year on a strong note.  But that is exactly how it is shaping up and cup and handle patterns can be quite powerful once a northward breakout evolves.
At this point I believe I can safely say that the potential bearish November 2010 shooting star reversal candle was completely evaded as a bearish sign as of the closing action this week.
That monthly November 2010 shooting star reversal received no confirmation whatsoever at the end of this week and now actually points to the opposite condition, higher prices.
I am still working with the theory that we have between 100 to 200 upside sp500 points from here.
Possible turning points could come at the change in year into 2011 and also at key swing highs in the sp500.  Notable swing highs that present the next major challenge for the market are 1313 and 1440.  Those are weekly swing highs in the sp50 going back to the year 2008.
If we look at the DJIA we see that the DJIA so far has initiated a monthly breakout from a very very important long term 11,000 trading range level.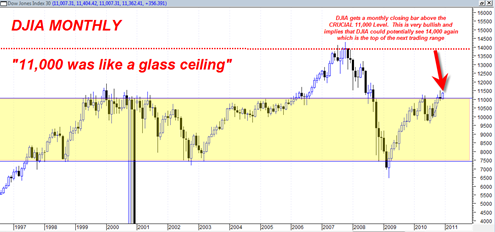 This chart does not need much commentary.  It really does speak for itself.  The potential implications are a long term move back up to 14,000.  I think the real key as to whether or not we can make it that far will depend on how much or even if inflation starts to creep in and at what rate.
Looking at the amazing blow off action in most commodities it would seem that inflation will become a problem maybe by the end of next year.  This is a guess at this point, but it makes perfect sense in the context of a massive commodity blow off that sees the gold price blast into the 2000 range.
Remember this key point, in commodities, 90% of the move comes in the last 10% of the time.  So a move to 2000 to 2600 is not out of the question for the gold price in a spectacular blow off type move.