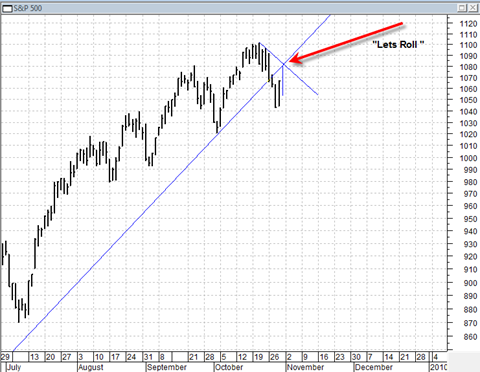 I am thinking that 1080 could be an almost perfect new shorting level if we are lucky enough to see this level either tomorrow or on Monday.  The volume on the reactionary advance today was in typical weak fashion and if you are a bull, does not inspire much confidence going against the 3 recent down days on a volume SURGE and break of March up trendline support.
The 1080 level is either a .50 or .618 fib retracement from the highs and it is also a resistance point because of that shelf of price lows at that level.
We could very well see 1080 on an intraday basis tomorrow and I will probably re short again at that level.  I closed out the shorts I had from 3 days ago on the open this morning.
For the bulls to be able to get another new up leg, they are going to have to:
Break back above the March 2009 uptrendline that is now resistance instead of support.
Break above the down trending force line from the all time highs.
Do these breakouts on robust volume
I am going to be EXTREMELY surprised if the bulls are able to achieve that by next week.
The US dollar is still in a very bullish configuration for a huge upside bounce. I can see it tick down tomorrow creating the upside pop we need in the sp500 but after that it should resume higher markedly. Larry Pesavento mentioned how next week there is a currency meeting in Russia (I have no clue which meeting this is or exactly what date it is, but supposedly it is next week sometime) that could cause some potentially big swings in the currency markets.
That seems consistent with the chart above.  We also have the fed meeting next week as well.  Next week is shaping up to be extremely volatile!!  The charts are telling me whatever is decided next week will cause the market to go DOWN.  But you see the levels in the chart above and those are the decision points for the tape next week.
One possibility to at least be aware of is that price during any one of the next few trading days could trade on an intra day level close to 1100 or even at a new all time high, but then reverse very hard intra day to create a nasty shooting star candlestick that sets up nasty downside follow through.  That would be the most nerve racking potential price action for anyone trying to get short here.  I don't expect it to happen but it is something to be aware of.
By the way, the broadening top pattern has a measurement target ( I looked this up last night online) that points to 950 on the SP500.
I am not sure yet whether it is a good idea to get fully short tomorrow.  It may take a few days to get to 1080 anyway in sort of a dribble up fashion.  From watching the market over the years I have noticed that it has a tendency to rally right up into Fed meeting days and then sell off.  So the fed meeting is on next Wednesday.  Perhaps we rally up into that day and then sell off very hard as the US Dollar gets a super spike from whatever the fed does?  Just a little healthy speculation on my part.