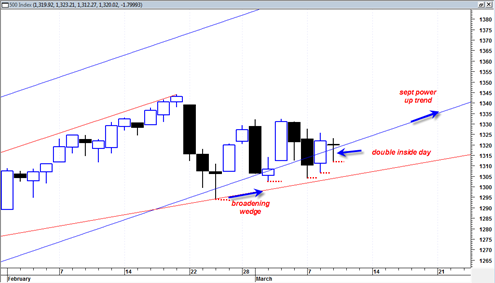 Today was a double inside day when we look at the last 3 candlestick bars.  Basically what it means is that the market is compressing into a triangle and a huge move is about to occur either up or down.
After reviewing some charts, especially the financial stocks I am starting to get cold feet on the expectation of a big bearish decline.  Despite the double inside day, the market is still printing higher lows since the start of the broadening wedge formation.
Bank of America BAC is looking quite strong and looks due for a northward breakout soon out of the recent large triangle.  I am just wondering how the market is going to fall apart with BAC heading to 22+ in the next few weeks.
Plus I am seeing other banks in recent corrective triangles as has been the case in the sp500, except that some of these banks are now breaking out north from the recent 3 week triangles.  This could mean that the sp500 is about to blast higher once again either tomorrow or by the end of this week.  I may have to switch back to BOT long signal as of the AM tomorrow.
A huge move is coming.  What would cause it?  I don't know.  Maybe a 5 to 10 day drop in crude oil (it is overextended to the upside and is overdue for a pullback).  Maybe some bombs falling in Libya from a coordinated effort of the USA and Europe.  Or maybe some other development, I just cannot pin it down.  The market has been the habit for a long time of resolving these negative issues and moving towards positive outcomes.  Just look at the Egypt situation, it resolved into a big upside rally.
The points I made in yesterday's post are only valid as long as we break DOWN out of this double inside day we finished creating today.  The weekly charts are in a prime position for bearish tape action, but if we do not break down tomorrow or Friday then it could be that the weekly charts are not ready to deliver a bearish trend yet.
But there are conflicting signals.  The SMH broke down very badly today, but then the RTH retail holders did quite well.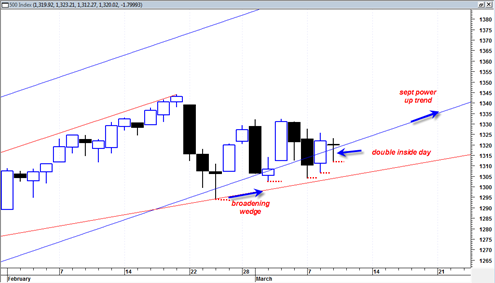 We need a resolution out of this double inside day on the sp500.  perhaps it will be down after all, but I am still getting enough conflicting signals that I am afraid to lean too strongly in either direction.
But I do have to admit now that I am starting to get a slight bullish bias again.  Dow Transports look good for a big move up as they are now pushing above the key 5124 level.  If oil drops into a correction, transports could surge higher and carry other indices with it.
The Russell 2000 instead of a symmetrical triangle looks like it is building an ascending triangle from 2/22/11 onward.
So the bottom line is that if we do not get a break down either tomorrow or this Friday then I believe one has to question whether the bears can get the job done or not.
We are about to get a big move and it should occur tomorrow.  There is an outside chance that we will form a TRIPLE inside day tomorrow which would coil us up even more going into Friday.  So during one of the next two days will be the decision point.
I am going to be watching BAC very closely and financials for signs they want to take us higher again.
I may go long the April 15 BAC Calls in the AM if BAC can get a TRIGGER going above the top boundary line of the symmetrical triangle it is forming.
The percent of stocks above 50 day moving average crossed bullish again today, a sign in favor of the bullish case.