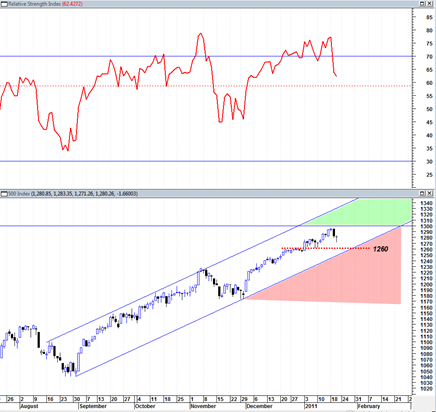 The sp500 today formed a reversal hammer and also created a daily MACD sell signal.  The RSI moved into the support zone indicated in yesterday's post during today's intra day action and the market bounced off this support area to finish almost unchanged.  The daily MACD sell signals have not led to anything meaningful on the previous two sells.  However this time around we see that the NYSE summation index is moving into a sell signal at the same time and could help to make the daily MACD sell more potent this time around.
I suspect that today's reversal hammer is a fake hammer in that we could see some more downside continuation tomorrow.  If I am wrong then we would need to see a close above the high of today's hammer.  It is possible that this could happen tomorrow.
I currently view 1260 as a very key short term level that must hold in the weeks ahead to keep this correction of the much more mild variety.  Anything under 1260 and we could be looking at a much more involved correction especially if the all important sp500 channel support is violated (see chart below).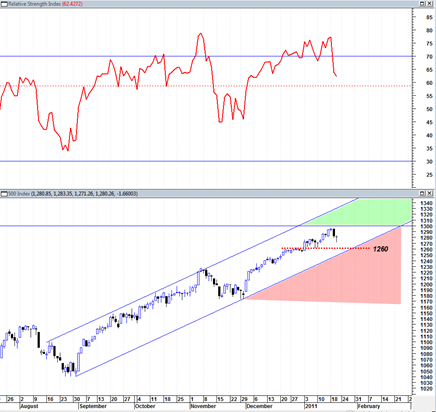 Today's decline in the market still has a reluctant flavor to it.  There is no sense of a dramatic plunge, speed or easy of movement to the downside.  However sometimes the early portion of declines are very reluctant because of complacency and denial. 
We will have to see how 1260 is reacted upon assuming we get there to get a better idea what the market wants to do.  The 58 RSI (relative strength index) zone is still an area of potential support that should coincide with the 1260 range on the sp500.