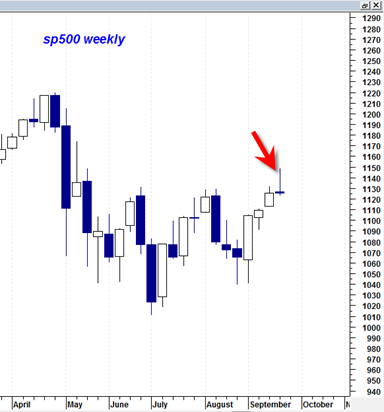 As of today the weekly sp500 candlestick is displaying as a gravestone doji.  This weekly candle has the potential to imply very bearish follow through action assuming we get a weekly close next week under this weeks low to confirm it.
If the market manages to get a very strong rally tomorrow then it could completely change the weekly gravestone doji into something else.  But for now it is showing this bearish looking weekly gravestone doji.
Tomorrow still has the potential to be quite bullish since the pull back to support so far has been text book.  I indicated that only a break below 1120 would start to turn the market much more bearish.  Today we held above that level.  Today's action still looks like a normal retest of support after the breakout earlier in the week.  Volume was somewhat normal and within range on the SPY ETF and not extreme in terms of downside volume.
Still, I am maintaining the BOT short signal I issued two postings ago.
It could be that the most significant bearish action is to take place next week if we can maintain the gravestone doji formation.
But the market still has a chance of maintaining a bullish posture if we rally tomorrow and then rally again on mutual fund Monday next week AND somehow manage to hold 1120 on the sp500.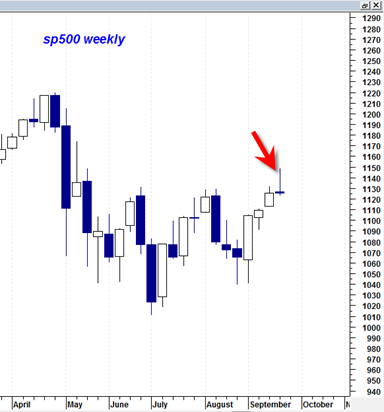 This has the potential to be a very important top, but again confirmation is needed with a next week close below this weeks low. . .