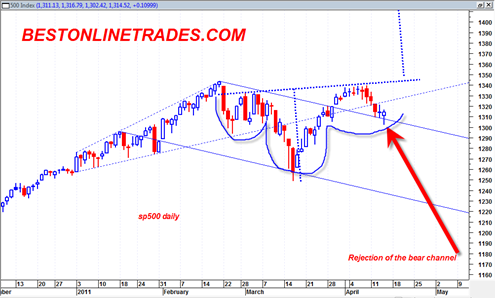 The bears seem to have little or no power based on today's price action in the sp500.  The downside volume in the SPY was horrible (meaning very light) and tells me this market is weak to the downside.  And that means of course that the right side must be the upside.  And so it shall be.
The current decline is probably now the 'handle' of a cup and handle formation, which means we are likely to bust north either by end of April or early May 2011.  The saying "Sell in May in Go Away" does not look like it will work this year.  Instead it will be more like "Sell in April (a very little amount) and then Come Back in May for more Drunken Hyper inflated Upside courtesy of the Fed"
The sp500 today rejected the bearish channel I was talking about in the last few postings.  We have a hammer reversal and it is likely to be confirmed to the upside tomorrow or early next week.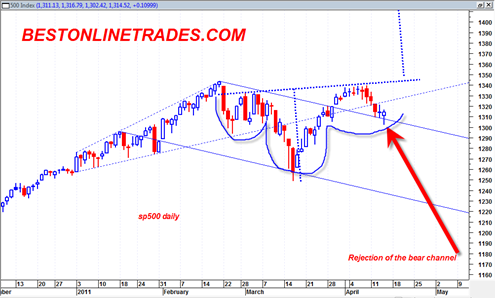 You can also see in the chart above the apparent development of an inverse head and shoulders pattern that has the right portion looking like a cup and handle formation.
It has upside targets close to the 1400 range. 
So here we are again at 'just another day in the office of the sp500'…